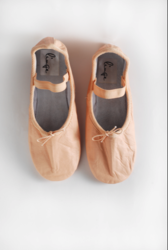 Ballet Style Everyday
Seattle, WA (PRWEB) September 21, 2012
Linge Shoes has just announced that they have released nude ballet shoes that have been designed with the dance community in mind. These nude ballet shoes can be worn to rehearsal, or in between practice, and have been made with the dancer's style and comfort at the forefront of their footwear's concept.
Linge Shoes provides ballet flats in a wide variety of colors. All of their footwear is made from high quality, genuine leather and offer the advantage of being easy to store and transport. This type of shoe is excellent for the dance community. The ballet slipper can be worn to class, or tucked into a handbag to be worn after a gala event. This is ideal for dancers who need to rest their feet in between practices, events and to be comfortable for everyday wear.
Linge Shoes has become increasingly popular amongst dance groups. Professional and amateur dance companies alike purchase the ballet shoes to wear for travel and in between gigs. In addition to jackets and luggage, the shoes offer a more uniform look, while dancers are still able to select the color that suits their individual tastes and style.
Linge Shoes provides their nude and colored ballet shoes at an affordable price. For more information email contact(at)lingeshoes(dot)com or visit http://www.lingeshoes.com.