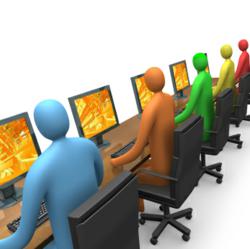 Birmingham (PRWEB UK) 24 September 2012
The Microsoft SharePoint bandwagon continues to smash through all sizes of UK companies and shows no sign of slowing down. Some organisations might call it their Intranet or have given it a trendy name like 'The Hub', but most are already using one of the many versions of SharePoint.
Businesses often select key people in the organisation to form a 'SharePoint Project Team' and very soon these people become fans of SharePoint. They pass their enthusiasm on to directors and managers convincing them that SharePoint will give them great savings, revolutionise the way employees work, Man-hours reduced, Rain Forests saved and morale rise.
When SharePoint goes live the SharePoint Project Team and IT Department congratulate themselves, the future looks rosy and there is even a triumphant double page spread in the company magazine. Then six months later somebody notices that nothing has really changed.
The problem is the everyday employees in the various departments haven't really started doing anything differently. Paper forms are still being sent around the office, out of date telephone lists are still pinned on noticeboards, room bookings are still made by ringing lots of people, Training Records for one employee are still being stored in multiple locations and 'Near Misses' are still just noted with a large sigh of relief from the Safety Manager. So why hasn't SharePoint streamlined all these standard internal processes?
The answer is that departmental employees just haven't got the time to change the way they have always worked, even with all the easy to use automated systems on SharePoint. They are still too busy filling out paper forms and taking phone calls and keeping records on "Post It" notes.
What companies really need is somebody to have done all the hard work of replicating their basic department processes for them. Most companies have the same core functions (Safety, IT, HR, Finance, Purchasing, Training, Reception, Projects etc.) and all have to do many of the same routine jobs. Such as, reporting IT problems, recording employee details, submitting Expense claims and controlling the access of visitors.
The good news is that somebody has already done that donkey SharePoint development work for them. The UK SharePoint specialists Office Talk have been selling a bundle of 10 SharePoint Departmental Templates since 2009. They're available for all versions of SharePoint since 2007 (including the free ones!).
Office Talk's pack of 10 SharePoint Department Templates, are easy to install and ready to adapt/use for just £199.95. It really delivers that missing ingredient to make SharePoint great and to help acheive the cost, and time savings that the SharePoint Project Team originally promised.
[To find out more about the Office Talk 2010 SharePoint Template Bundle visit http://www.office-talk.com/index.php?id=151