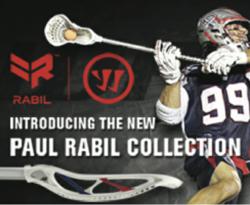 Baltimore, MD (PRWEB) September 25, 2012
Lax World, the authority in lacrosse equipment & apparel, announces the latest edition of their extensive catalog for Fall 2012. The Baltimore-based retailer, with 12 stores across Maryland, Virginia, Pennsylvania, Georgia and Colorado, also offers their collection of lacrosse sticks, protective equipment, apparel and gear online for shoppers across the globe.
Featured in this season's latest collection are new and improved products from well-known and trusted brands like Nike Lacrosse, Brine Lacrosse and more. Some highlighted upgrades to Lax World's catalog includes the newest editions of Nike's ever-popular Hurrache cleats, Brine's King gloves, Cascade's signature line of helmets and many more.
Also coming to Lax World's shelves this fall is the latest from Paul Rabil and Warrior Lacrosse – the Warrior Rabil X Head, the signature lacrosse head from one of the most renowned scorers in professional lacrosse today. In the past, the former Hopkins lacrosse star and the sports equipment manufacturer have teamed up to produce other innovations in the world of lacrosse gear, including the popular Warrior Paul Rabil 99 lacrosse cleats.
The world's largest specialty lacrosse store, Lax World has equipped individuals and teams in one of the fastest growing sports on the youth, prep, college, and professional levels. Their latest catalog is another step in their growing mission to best serve and supply the lacrosse community across the globe.
About Lax World:
Lax World is the largest Lacrosse Specialty store on the planet. Since 1998, Lax World boasts the world's largest collection of lacrosse shafts, heads, helmets, shoes, shoulder pads, arm guards, gloves & more.
Lax World equipment bears the names of trusted manufacturers like Warrior, Brine, STX, Cascade, Maverik, Nike, Under Armour and many more – including their own collection of Lax World products.