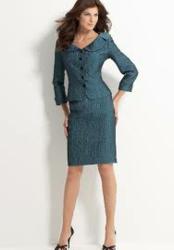 (PRWEB) September 21, 2012
Wholesale evening dress wear clothing market is analyzed in a website published by Donny Lowy, the CEO of CloseoutExplosion.com, a New York wholesale business that specializes in exporting brand name closeouts, overstock, and store return merchandise to boutiques located internationally, such as to stores in Nigeria, Kenya, Panama, Trinidad, Suriname, and Uganda.
Donny Lowy has used his extensive experience in the wholesale closeout business to publish articles on the wholesale evening dress wear clothing business. As the owner of a business located close to the New York Fashion District, and with customers ranging from New York flea market vendors to eBay sellers to Nigerian boutiques, he has accumulated a great deal of information, tips, strategies, and resources which can help wholesale dress wear buyers have profitable businesses.
"In the course of running a business that has sold wholesale winter clothing to Canada, exported social dresses to Ghana, liquidated brand name handbags in the United States, and supplied designer women suits to Kenya, I have learned a great about the wholesale social and business clothing market," Donny Lowy said. "The market for high end wholesale Tahari office suits, overstock BCBG dresses, Calvin Klein jackets, Nine West blazers, and other fancy dress apparel is very large, especially in the Caribbean and Africa," Donny added.
His wholesale fashion website offers tips on important topics such as:
How To Increase Your Sales By Understanding Your Customer's Self Image
The Sales Potential Of The Wholesale Suit Separate Business
Concrete Examples Of The Type Of Business Wear Worn By Professional Women
To become a successful women clothing retailer, a clothing reseller needs to understand the customer's reasons for buying clothing, and the needs of the actual customers. For example, a Nigerian banker in Lagos will need conservative suits, and will prefer brands such as Tahari and Jones New York, while a Canadian attorney will need heavier suits for the colder weather, and also will prefer brand name designer labels. Knowing why a customer is buying clothing can help a clothing store increase its sales since it will able to stock its store with a wholesale clothing inventory that is suitable to its customers.
"In addition to offering information for retailers of apparel for women, I also use the website to offer lots of overstock, liquidation, and store return clothing pallets, which are primarily department store overstock and returns. Customers can join the free wholesale newsletter to receive the latest closeout product offers. They can also visit my Brooklyn wholesale clothing warehouse to make their own product selection," commented Donny.
Since the New York wholesale business has many contacts in the closeout industry, it also receives closeout merchandise from up and coming designers and from established brands. These special closeouts can provide a reseller with the opportunity to enjoy a sizable profit potential, and compete with other local and online retailers. For example, a dress boutique in Jamaica can buy an authentic wholesale lot of handbags by a new designer, and use those handbags to attract new shoppers to its store.
"My wide selection of overstock designer labels can help retailers stay competitive in their markeplaces. I can tailor make wholesale orders based on the country where a retailer is located so that a New York wholesale showroom will receive a different selection than a wholesaler in Kenya," commented Donny, who also has wholesale fashion websites devoted towards specific countries, such as wholesale for Nigeria, wholesale for Ghana, wholesale for Lebanon, and wholesale for Israel. These sites are used to provide country specific business advice for wholesalers, importers, distributors, flea market vendors, eBay sellers, and online retailers.