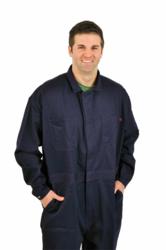 FR Clothing with same protection but at a fraction of the cost.
Hammond, IND (PRWEB) September 28, 2012
Nation's most trusted manufacturer of disposable clothing for industrial safety, MPE Inc., is again in the news. They have just launched their new product line offering the finest range of FR coveralls within a competitive price range. These fire resistant coveralls are ideally suited for application in different industries like electrical, utilities, gas, oil, automotive etc. The highly illustrious journey of MPE Inc in the industry started almost three decades ago and since then the company has been manufacturing the finest quality of disposable clothing including recycled Tyvek coveralls, biohazard suits, jumpsuits, lab coats, aprons, and much more. The introduction of the new product line would definitely strengthen their already impressive reputation in the industry.
Fire resistant clothing is considered to be indispensable in industries where there are chances of workers getting caught in an electric arc or flash fire. Proper protective clothing can provide precious time for the wearers to escape from the ignition source with minimum injury. The new range of coveralls from MPE Inc includes Green, Khaki, Navy, and Tecgen Deluxe coveralls. Apart from features like breast pockets, rear pockets, Velcro on legs, all these 100% cotton made, extra large coveralls are 70E compliant. 70E compliance represents the safety standard recommended by The National Fire Protection Association to establish the best safety practices for potentially dangerous industrial activities.
Introducing their new collection of protective clothing, a senior representative of MPE Inc, Matthew Jancosek said, "We are excited to introduce our comprehensive range of 70e compliant coveralls. Enhancing safety standards in the industry has always been our top priority. Visit our website to catch a glance of this top of the line protective clothing collection". Reliable company sources have informed that new products would regularly be added to this new range of safety wear.
About MPE Inc.:
MPE Inc.is an Indiana-based company that specializes in protective clothing. With a wide range of fire protection items, the company's products are useful in many industries.
Contact:
MPE Inc.
2030 Summer St.
Hammond, IN 46320
Phone: 800-841-4230
Website: http://www.disposable-garments.com
http://www.flame-resistant-clothing.net/