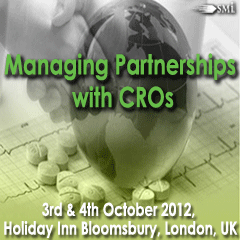 London (PRWEB UK) 25 September 2012
SMi is pleased to confirm Andrew Huxley, Regional Director of Clinical Operations, Eli Lilly Asia Pacific as a speaker at their upcoming Partnerships with CROs conference
He has been responsible for leading a new functional sourcing model and organisational change which is intended to provide improved sense of partnership and customer focus. He will be presenting on how to choose the right CRO for partnership as well as how to evaluate your own processes and requirements before choosing a partner, approach to asses a potential partner, developing an in-depth and thorough CMO/CRO questionnaire and strategies for short listing the number of potential companies
This event will provide delegates with a comprehensive overview and analysis of outsourcing in the pharmaceutical sector, offering the unique opportunity to hear from representatives from Pharma, CRO and Academia with an emphasis creating strong and successful partnerships between all parties. Attending will enable you to:
Learn from industry specialists the current issues facing those working within sponsor CRO relationships.
Understand what causes breakdown in relationships and ways to prevent this through real case studies.
Hear from speakers on both sides of the relationship, and their strategies for developing successful partnerships.
Discuss the strategic rationale for clinical development outsourcing among the large pharmaceutical companies