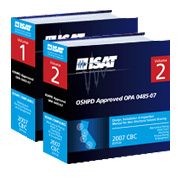 La Mirada, CA (PRWEB) September 23, 2012
International Seismic Application Technology, a global leader in seismically qualified, code compliant seismic bracing, has successfully been approved as the singular corporation to hold a California OSHPD (Office of Statewide Health Planning and Development) OPA pre-approval for a seismic design manual meeting the 2007 California Building Code, Chapter 16A requirements for essential facilities. ISAT's new OPA-0485-07 provides approved, pre-engineered solutions for the seismic restraint of building services (mechanical pipe, duct, electrical and plumbing systems). ISAT engineers worked together with OSHPD to ensure pre-approval was achieved, a process which took over four and a half years and totaled almost two million dollars in man hours, fees, and product testing. The complete list of preapproved equipment is available here:
http://www.oshpd.ca.gov/FDD/Pre-Approval/2007_OPAIndex.pdf
California's building code requires the OSHPD certification of critical facilities throughout the state. In addition, International Building Codes are used by almost every state, and address both the design and installation of building utility systems with an emphasis on performance. Model code regulations that safeguard public health and safety are the backbone of such building codes; additionally other countries have been modeling the example of the United States and enforcing the use of building codes as well. In locations that may experience earthquakes, nonstructural systems may be required to remain functional to help ensure safety for occupants, and for essential building management.
Hard copies of the ISAT OPA 0485-07 are currently in production and will be available for purchase within the month; pre-orders are currently being accepted for customers who don't want to risk sellout of first available inventory. You can place your pre-order online for the design manual at http://www.isatsb.com/products.php?pg=2 or call 1.877.523.6060 to be added to the waitlist.
####
About ISAT:
International Seismic Application Technology (ISAT) is the leading provider of seismic engineering & consulting services, quality assurance & restraint system components for nonstructural seismic bracing. With over 15,000 projects completed globally ISAT has become an authoritative resource for construction professionals worldwide. For more information on ISAT, or to view other completed healthcare projects, visit our website at ISATsb.com, or call 877-523-6060.