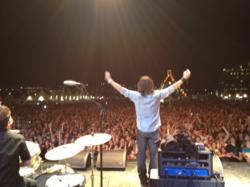 Madison Rising is on a roll these days. In addition to achieving their goal of one million views, the band successfully completed a $50,000 Kickstarter project and its Star Spangled Banner remains a #1 best seller in several music categories on Amazon.
(PRWEB) September 23, 2012
Patriotic rock band Madison Rising has successfully completed its One Million Star Spangled Banner Challenge a full seven weeks earlier than expected. As a result, the group has significantly increased the stakes and re-launched the campaign as the Five Million Star Spangled Banner Challenge, http://www.starspangledbannerchallenge.com. This ambitious goal of reaching five million views on a single YouTube video is nearly unprecedented for an independent recording artist, but the band is confident they will be able to achieve it.
"We hit our goal of one million views on the video on the morning of September 14th - the exact date Francis Scott Key wrote the original version 198 years ago," said band manager, Richard Mgrdechian. "There's something bigger at work here, and we plan to do everything we can to take advantage of this serendipitous circumstance to continue to re-energize our National Anthem and make it the #1 best selling rock song in the country."
Madison Rising released its widely acclaimed version of the Star Spangled Banner earlier this summer, updated with a special addendum to reflect our nation's struggles at the dawn of the 21st century. In conjunction with that release, the band launched the Star Spangled Banner Challenge to offer Americans a fun and meaningful way to show their patriotism by watching the video and downloading the song directly to their iPods and other devices to play proudly in their cars, at the gym, at the beach or anywhere else they want.
Madison Rising itself is on somewhat of a roll these days. In addition to achieving their goal of one million views well in advance of Election Day, the band successfully completed a $50,000 Kickstarter project on September 11th and its rendition of the Star Spangled Banner continues to remain a #1 best seller in several key music categories on Amazon.com. In addition, the band partnered up with The National Anthem Celebration Foundation (http://www.osaycanyousee.org) regarding their mutual goal of increasing public awareness, education and appreciation for our National Anthem. As a result of this partnership, the Madison Rising performed complete with a full fireworks display, to nearly 10,000 people at the Charmed City Music Festival on September 15th at a concert dedicated to the celebration of Defender's Weekend in Baltimore.
Madison Rising has a several events on the calendar over the next several weeks including performances at the Gun Rights Policy conference in Orlando on September 28th and 29th, a performance at the Wake Up America Rally in Los Angeles on October 7th, performances to honor military working dogs in Newburgh, NY hosted by Orange County Choppers on October 13th and 14th as well as a huge event on November 3rd in Clovis, NM hosted by Patriot Outdoors.
Madison Rising promotes the principles of liberty, independence, smaller government and personal responsibility. Their mission is not only to make great music, but to also send a message that American culture is alive and well. Madison Rising is currently recording its second album and actively laying the groundwork for a national tour. To book the band for live performances including music festivals, sporting events, corporate events, or welcome home parties for soldiers serving overseas, please contact the band directly at booking(at)madisonrising(dot)com.