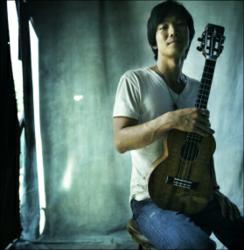 "Forget everything you know about the ukulele…and go do a Google search. The first video that likely pops up [will be] a performance by a hair-gelled 34-year old Hawaiian named Jake Shimabukuro."
– Time Maga
Modesto, CA (PRWEB) September 22, 2012
It's rare for a young musician's name to be included in the same sentence as rock god Jimi Hendrix and jazz legend Miles Davis. It's even harder to find an artist who has entirely redefined an instrument by his early thirties. But Jake Shimabukuro (she-ma-boo-koo-row) has already accomplished these feats, and more, in a little over a decade of playing and recording music on the ukulele.
Shimabukuro will appear in concert at the Gallo Center for the Arts on Tuesday, October 9 at 7:30 pm. Tickets are on sale now and range from $10 to $49. Groups of 15 or more are eligible for a 15% discount. For tickets and more information, visit GalloArts.org or call (209) 338-2100.
The Hawaii native's career began local Honolulu venues and coffee shops. He now performs in sold-out performing arts centers and arenas around the world. Shimabukuro's revolutionary mix of jazz, rock, classical, Hawaiian music, and folk, creates a sound that's both technically masterful and emotionally powerful.
Shimabukuro says that he remains "awestruck" by how his love of the ukulele has propelled him to such great heights. For that, he gives full credit to the instrument he's played with a passion since he was four years old. "If everyone played the ukulele, the world would be a better place," says Shimabukuro.
The Gallo Center for the Arts' 2012-13 Premier Partner is Boyett Petroleum.
###