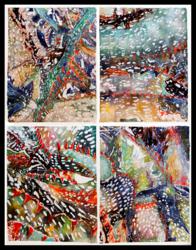 The Lighthouse ArtCenter Museum & School of Art is one of many reasons Tequesta homes for sale appeal to buyers.
Jupiter, Fla. (PRWEB) September 22, 2012
The eclectic and definitive style of the Florida Craftsmen is on display this month at the Lighthouse ArtCenter Museum & School of Art in Tequesta.
The exhibition of artists from the Florida Craftsmen, a nonprofit organization based in St. Petersburg, attracted a crowd of 140 enthusiasts, admirers and collectors during the opening reception. Some of those attending the reception were clients of Waterfront Properties and Club Communities looking for art to decorate their homes.
The Lighthouse ArtCenter Museum & School of Art is one of many reasons Tequesta homes for sale appeal to buyers. The facility is in the village's quaint downtown are and has a year-round calendar of events that offers everything from classes and workshops, to fundraisers and tours, to en plein air events.
The exhibit marks the first time the Florida Craftsmen has displayed artwork at the center.
"Each year, we try and bring our exhibition to a different part of the state so that new people can discover the amazing quality of work being done around Florida," Executive Director Diane Shelly said. "The state is divided into districts, so we're able to make sure that all parts of Florida remain actively involved and are represented. This year, our experience with Lighthouse ArtCenter has been absolutely wonderful. The exhibition space and design of the show have far exceeded my expectations, and we thank them for hosting this event."
The Florida Craftsmen exhibit runs through Oct. 10.
The center's location in Gallery Square North is near another popular Tequesta hangout: Gallery Grille. The restaurant offers breakfast and lunch amid an art-filled dining area, where customers can savor fresh-squeezed juices and homemade baked goods.
Next to the restaurant is store that offers all things culinary. In The Kitchen is the perfect place for residents to stock their recently upgraded cookeries.
Many of the homes for sale in Tequesta, including Indian Hills homes for sale, have been spruced up with a variety of amenities, including center islands, granite countertops and backsplashes, custom cabinetry and stainless-steel stoves. Others have summer kitchens, which also need to be stocked with supplies for eating al fresco in temperate South Florida.