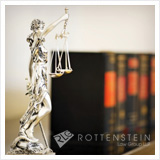 New York, NY (PRWEB) September 24, 2012
An attorney for the Rottenstein Law Group attended the conference of the Judicial Panel on Multidistrict Litigation held on Thursday in lower Manhattan to address the merits of consolidation of federal lawsuits by claimants alleging harm caused by metal-on-metal hip implants manufactured by Biomet, Inc.
Several lawyers representing plaintiffs argued in favor of consolidation of the various suits for pretrial proceedings. One lawyer for Biomet argued against consolidation, suggesting that the creation of an MDL case would lead to a greater number of suits filed against the company than there would be otherwise. The judges on the JPML asked each lawyer questions, but gave no indication of how the panel might rule on consolidation.
In 2001, Biomet voluntarily recalled hip prostheses that included a potentially defective component manufactured by another company beginning in 1998. The hip replacement system that Biomet recalled in 2001 uses a zirconia ceramic femoral (thigh bone) head manufactured by St. Gobain Desmarquest, a French company. Several months before Biomet's recall, the U.S. Food and Drug Administration had mandated a recall of St. Gobain Desmarquest's femoral heads because they were fracturing at a higher rate than expected in some patients 13 to 27 months after being implanted. Biomet was one of eight U.S. artificial joint manufacturers that voluntarily recalled their hip replacement systems in response to the recall of St. Gobain Desmarquest's ceramic femoral heads. The events surrounding the FDA's recall of St. Gobain Desmarquest's femoral heads, and Biomet's voluntary recall of the hip implant devices that incorporated those femoral heads, can be found under the "Orthopaedic" section on this page of the FDA's web site.
Hip replacement surgery is one of the most common joint replacement procedures performed in the United States, according to the FDA. Many who suffer from osteoarthritis and other conditions find relief after surgery; some, however, have suffered debilitating side effects. Metal-on-metal hip implants have been particularly problematic for patients. Once deemed a technological breakthrough that would extend the lifespan of artificial hip joints, metal-on-metal hip implants often fail at a much higher-than-expected rate. Moreover, the all-metal construction sometimes leads to metallosis, a condition that results when microscopic metal particles shed from the joint become embedded in a recipient's tissue. These dangers have led recently to numerous hip replacement lawsuits.
Rochelle Rottenstein, principal of the Rottenstein Law Group, implores anyone with a friend or relative who has received a dangerous hip implant or other medical device to reach out to that person and recommend that he or she speak to a qualified personal injury lawyer. The Rottenstein Law Group maintains a Biomet Hip Replacement Lawsuit Information Center at http://www.rotlaw.com/biomet/. (Attorney advertising. Prior results do not guarantee a similar outcome.)
About THE ROTTENSTEIN LAW GROUP
The Rottenstein Law Group is a New York-based law firm that represents clients nationwide in mass tort actions. The firm was founded by Rochelle Rottenstein, who has more than two decades of experience as a lawyer, to represent clients in consumer product injury, mass tort, and class action lawsuits in a compassionate manner.
Contact:
The Rottenstein Law Group, LLP
Rochelle Rottenstein, Esq.
321 W. 44th Street
Suite 511
New York NY 10036
(212) 933-9500 (office phone)
(212) 933-9980 (facsimile)
rochelle(at)rotlaw(dot)com
http://www.rotlaw.com