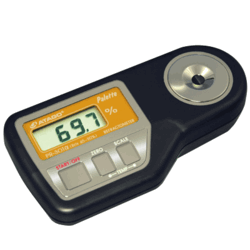 With an unsurpassed range of 0-100% salinity, the PR-100SA is heavily favored by aquarists who need to test samples accurately and quickly.
Farmingdale, NY (PRWEB) September 23, 2012
Atago Inc., with its longstanding reputation of being the forerunner in the refractometer field has teamed up with NSG Precision Cells to offer the definitive salinity refractometer line for a diverse array of applications such as measuring seawater, conductivity and saltwater content.
Maintaining the highest standard in Japanese precision manufacturing, Atago's products are staples in diverse fields such as cooking, aquaculture, organic farming, and viticulture. Coming off its recent 2011 Good Design Award for its Fukaya Factory in Japan, Atago continues its stellar reputation of providing the best refractometers on the market. Atago puts only premium components into each of their units and users have the peace of mind knowing that all of Atago's products are manufactured in an ISO9001 certified plant.
NSG is including the Master-S series of traditional handheld Atago refractometers, including the Master-S/Mill Alpha, Master-S/Mill M, Master-S10 Alpha, the Master-S10M, the Master-S28 Alpha, the Master-S28M and the best-selling S-10E salinity refractometer. The Master-S series measures the salinity and specific gravity of seawater, while offering its unique Automatic Temperature Compensation (ATC) feature, which makes it well-suited to field use. All of these units only require a drop of sample on the measuring prism to obtain an accurate measurement.
For other applications, such as measuring the salt percentage of condiments such as soy sauce and ketchup, the ES-421 Conductivity Refractometer is the definitive digital salinity refractometer. Using conductivity, the ES-421 is able to take a 1.0ml sample and determine the salt concentration between the range of 0-10.0% salinity.
Calibrating a refractometer is of the utmost importance. The digital refractometers come equipped with a self calibration sequence that should be run before each test. For calibrating the handheld salinity refractometer, there is a standard a screw that is used for adjustments. To calibrate, simply place a couple of drops of distilled water on the lens, look through the eyepiece, and rotate the screw until a reading of zero is reached.
Rounding out NSG's digital salinity refractometer line is the PR-100SA.With an unsurpassed range of 0-100% salinity, the PR-100SA is heavily favored by aquarists who need to test samples accurately and quickly. The samples that aquarists run is to determine the salt concentration of their saltwater aquariums and require an accurate device.
Rather than relying on cheap, inaccurate hydrometers, aquarists who want the optimal results have begun switching to salinity refractometers. With there new External-Light-Interference technology, excess light is cancelled out, allowing one to take measurements near windows or outside with ease.
In the upcoming months, NSG plans to launch several other lines to compliment the salinity refractometer line such as brix refractometers, specific gravity/urine refractometers, refractive index refractometers and abbe refractometers.
About NSG Precision Cells
NSG Precision Cells, Inc. was founded in 1958 and has been growing ever since. NSG Precision Cells, Inc. is a well established, highly regarded quartz manufacturer and we specialize in the manufacturing of quartz flowcells, quartz flow channel cuvettes, quartz microchips, quartz cuvettes, and other quartz optical products.