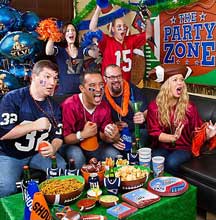 It is important to maintain full awareness even while immersed in the captivating atmosphere of a sports game...
Neptune, NJ (PRWEB) September 24, 2012
The 2012 NFL season started with a bang on Wednesday, September 5 with the Superbowl Champion New York Giants facing off against the Dallas Cowboys at METLIFE Stadium. Our nation's most popular sport did not disappoint with the first game, ending with a thrilling 24-17 Cowboys victory. The Superbowl Champ Giants went on to pull off a miraculous 4th Quarter comeback agaist the Tampa Bay Buccaneers and then impressively beat the Carolina Panthers this past Thursday night 36-7.
Chief Donald Colarusso, 25 year veteran firefighter and president of All Hands Fire Equipment says "The National Football League has been extremely successful in creating an entertaining product for our enjoyment. In doing so, they have had a tremendous impact on the everyday lives of many people." He added, "No matter how or where you enjoy watching the game, or whether you are a fan of the New England Patriots, Pittsburgh Steelers or any other NFL team, it is so important to stay safe while enjoying the game."
Some sports fans can head to the stadium for the full tailgating experience and the incredible atmosphere of the NFL football game. Others prefer to watch the game in the privacy of their own home, or at a friend's house. Still others visit the local sports bar. No matter where fans congregate, it is important to remember these few simple tips to keep football Sunday safe.
At the stadium:
· Doing a final check before departing and ensuring that all necessary items are packed is a great start.
· Leaving early, driving extra carefully and having a clear set of directions on hand is important.
· Checking the weather report and dressing accordingly is recommended.
· Fans should keep tickets, parking passes and any other documents in a secure but easily accessible place.
· It's always important to ensure that parked vehicles are safe distance away from grills or other potentially hazardous cooking appliances.
· All outdoor cooking appliances must being operated responsibly. When finished one must always make doubly sure that the appliance has been shut off and/or completely extinguished.
· To avoid confusion in a dark parking lot it's a good idea for fans to be sure to remember the parking space number or section—writing it down if necessary.
· Maintaining situational awareness while walking in large crowds, and keeping a close eye on personal belongings such as purse, wallet, watch, etc. should not be forgotten amongst all of the fun and celebration.
While watching the game at home or local establishment:
· As always, drinking and driving is a serious danger for both drivers and innocent bystanders.
· While cooking for guests at home, great care should be used with the barbecue grill, stove, oven or any other cooking appliance.
· Leaving grills or cookers unattended is a recipe for disaster.
· It's very important to keep a fire extinguisher close to any appliance that produces heat.
The 2012 NFL season will undoubtedly be very exciting to follow, but it is important to maintain full awareness even while immersed in the captivating atmosphere of a sports game. Fire Safety Gear expert Chief Colorusso reminds fans to "Have fun--but stay safe!"