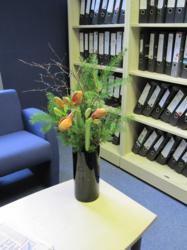 (PRWEB UK) 22 September 2012
One of the worst choices a company can make is to ditch their reception flower vase to save money in the current decline.
A recent trend in cutbacks has seen London businesses cutting back on office flowers. The harm that this can do by far outweighs the good.
In these continuing hard times, many companies are cutting expenditure almost at random in their desperation. They hope to recoup some spare cash by slashing the stationery, coffee, biscuits and other small comforts. Amongst the candidates for cancellation the vase of flowers standing on the reception desk is a very visible option. It is, however, equally visible to all your visitors, be they clients, partner companies, competitors or even the industry media. The sudden absence of flowers where there once was a beautiful vase standing is a sign to all that confidence is at ebb. The reception desk may look a bit empty after that and first impressions are no longer bright, cheerful and optimistic.
A company's presentation is a way of marketing itself to clients and even to their own employees. A dingy front desk in the entrance area or a client conference room which looks untended can all contribute to a lack of confidence in the firm's financial stability. Employees will feel less willing to identify and may be more likely to take their skills elsewhere. The business thus loses the continuity that long term staff can give and looks far less attractive to potential clients.
There are many other ways to save that could better help the budget that are not so visible. Far more could be saved on phone bills; paper copy postage, travel … and these cuts will not damage the morale of the workforce and are not visible to outsiders. The company's reputation will not suffer if less expensive equipment is purchased but losing the flowers may actually damage productivity and sales.
There is an old tale of a soldier who cannot find a nail to re-shoe his horse, and as a result the horse cannot take the soldier into battle. The lack of this soldier results in the battle being lost, and with that lost battle, the kingdom falls. For the want of a nail, the kingdom was lost. Similarly, it is possible to lose an important contract for the want of a vase of flowers, and thus fail your business.
Todich Floral Design MD Todd Z Todic says "The last thing you should cut back on is office flowers. If you feel that you absolutely have to then substitute a beautiful long lasting potted orchid or variegated plant to brighten up your space. This will last for ages and still make the reception feel welcoming."
Businesses that keep up a contract for their weekly London flower delivery can ride through hard times with a confident smile. The whole world loves a winner!
Todich Floral Design - Background Info
Todich Floral Design has been serving the wedding, events and corporate market for over 15 years and was nominated for Lambeth innovation award 2011. Managing director Todd has provided his expert consultancy services to corporate and private clients and has been featured on Channel 5 and Wedding TV.