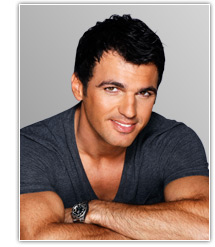 "I am now living a healthier happier pain free life as I continue to dance and enjoy everyday activities with my family and friends."
Fort Lauderdale, FL (PRWEB) September 24, 2012
ABC's Dancing with the Stars Pro, Tony Dovolani's dance card is filled - on any given day he's dancing for a live audience. One thing that's not on his schedule is joint pain. The Champion Ballroom Dancer and DWM Dance Studios Co-Owner, gives a glimpse into his life on a new show, Pain Relief with Omega XL featuring Tony Dovolani.
A veteran of 14 seasons on Dancing with The Stars, Tony Dovolani is the latest celebrity Global Brand Ambassador for Omega XL. Dovolani reveals on the upcoming show, Pain Relief with Omega XL that he relies on Omega XL an all natural anti-inflammatory to get through the inevitable aches and pains that come with dancing. Tony becomes one of the thousands of Omega XL users who have told their success stories about living with joint pain in Omega XL's current talk show-style show. The show speaks to every audience, proving that no matter who you are or what you do - pain disrupts busy lives.
"As a professional dancer aches and pains come with the job," states Tony. "Rather than live with them, I started taking Omega XL. I am now living a healthier happier pain free life as I continue to dance and enjoy everyday activities with my family and friends."
Tony Dovolani will be back for season 15 of ABC's hit series Dancing With the Stars, set to premiere tonight, September 24th at 8pm Eastern/7pm Central.
Omega XL is one of only two Omega-3 supplements sold in the world that contains the patented stabilized marine lipid extract PCSO-524™ derived only from the New Zealand green-lipped mussel, with 30 healthy fatty acids including DHA and EPA. Sold in other parts of the world under its sister brand name Lyprinol, Omega XL is manufactured exclusively by Great HealthWorks Inc., and is the most widely available omega-3 fish oil supplement containing the potent PCSO-524™ marine lipid extract. To find more information about Omega XL and PCSO-524™ visit http://www.OmegaXL.com
About Great HealthWorks, Inc.
Great HealthWorks, founded in 2003, is a global manufacturer and distributor of one-of-a-kind, natural products. Great HealthWorks, the makers of Omega XL®, an all-natural, highly purified marine lipid extract from the green-lipped mussel (Perna Canaliculus) known as PCSO-524™. This patented marine lipid complex comes exclusively from the pristine waters of the Marlborough Sounds in New Zealand, and contains 30 healthy fatty acids. Great HealthWorks corporate headquarters and distribution center are in Hollywood, Florida. To find out more about Great HealthWorks, visit http://www.GreatHealthWorks.com. And for more information about the benefits of Omega XL, visit http://www.OmegaXL.com. Join the conversation: http://www.facebook.com/myomegaxl