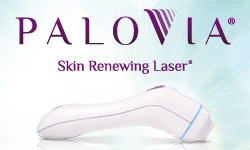 Burlington, MA (PRWEB) September 25, 2012
For the second year in a row, the PaloVia brand is participating in the FabOverFifty Beauty Bash, set to take place in New York City from 10 a.m. to 7 p.m. on September 29, 2012 at the Metropolitan Pavilion, 125 W. 18th St.
During the event, the PaloVia brand will be on hand to demonstrate and answer questions about the PaloVia Skin Renewing Laser. Attendees will also be able to try the PaloVia laser and learn firsthand how easily it can be integrated into their regular at-home beauty routine. Although individual results may vary, clinical studies have shown that, with just 3-4 minutes a day for one month, the PaloVia laser can reduce eye wrinkles and reverse the signs of aging.
In addition, the PaloVia brand will be giving away one PaloVia Skin Renewing Laser via a raffle. To enter the raffle, and to try the PaloVia Skin Renewing Laser for themselves, FOF Beauty Bash attendees can stop by the PaloVia brand's table. In addition to the PaloVia laser, the 2012 FOF Beauty Bash will feature a wide range of spokespeople and brands tailored to suit discerning fashionistas.
FabOverFifty is an online community connecting fabulous women over 50. At its annual Beauty Bash, attendees get a firsthand look at new fashion and beauty products that, like the PaloVia laser, were created just for them. The FOF Beauty Bash is the perfect venue for women to learn about and discuss the benefits of at-home laser skincare, and the beauty revolution that the PaloVia laser represents.
Tickets to the FOF Beauty Bash are $75 and can be purchased through the FabOverFifty website.
About Palomar Medical Technologies
The PaloVia Skin Renewing Laser was developed by Palomar Medical Technologies, Inc., a leading manufacturer of cosmetic lasers for dermatologists and plastic surgeons.
For nearly two decades, Palomar has revolutionized laser skin treatment. In the 1990s, a global team of Palomar laser physicists and esteemed dermatologists began experimenting with non-ablative fractional laser treatments — a new technique that kept the outer layer of skin in place ("non-ablative") and treated only a small portion ("fraction") of the skin with each application of light. In 2000, Palomar filed a patent application on this fractional laser technology and later began selling systems to doctors for use on their patients. In 2009, after years of clinical studies, Palomar received FDA clearance for the first at-home fractional laser clinically proven to reduce fine lines and wrinkles around the eyes.
For more information about the PaloVia laser, winner of the 2011 Allure Breakthrough Award, visit palovia.com.
PaloVia Customer Care:
1-866-PALOVIA (1-866-725-8642)
info(at)palovia(dot)com