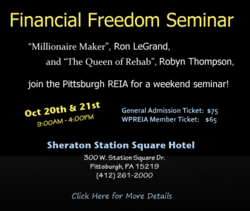 "Lee Phillips was touted as one of our premier speakers... His presentation kept the audience involved and they loved every last minute of it! He is the most un-boring un-lawyer like lawyer I have ever
Pittsburgh, PA (PRWEB) September 25, 2012
Coming to Pittsburgh as part of the Western PA Real Estate Investors Financial Freedom Seminar, Attorney Lee R Philips will be a featured speaker. Lee Philips is a Counselor the United States Supreme Court. He has authored 19 books, and has given over 3000 presentations on the subject of asset protection. Lee is considered one of America's leading experts on the subject of asset protection.
Lee Phillips is called upon to teach other lawyers how to craft the documents that they need to protect their client's assets. Now he will be live in Pittsburgh to teach the attendees of the Financial Freedom seminar how they can keep their hard earned assets safe from law suits, high taxes, and other financial storms that would threaten to take away a family nest egg.
Lee and his wife Kristy came to specialize in asset protection the hard way. When Lee was just 27 years old, he was working as a patent attorney, and his financial future looked bright. Then a life threatening illness changed all of that. Five months later, medical bills, and the twists and turns of the legal system had taken all of his money and left his family with a mountain of debt. Since that time, Lee has dedicated himself to teaching people how to protect their assets from the chaotic seas of real life. Anyone with a family should plan to see Lee.
Lee Philips is one of the four big name speakers that will be on stage as part of the Western PA Real Estate Investors Association seminar. The Pittsburgh based investors club promotes the goal of financial independence for everyone. In furtherance of that goal, the club is bringing in real estate investment legends Ron Legrand, Robyn Thompson, and Jay Conner, to teach people how they went from broke to multi-millionaires, and how anyone else can do it too.
Ron Legrand is a former broke auto-mechanic who has bought and sold over 2000 single family homes. Robyn Thompson is a former waitress who made millions of dollars rehabbing and selling old houses, to date she has done over 320 of them. Jay Conner is a former mobile home salesman who now makes big money buying properties out of foreclosure. Jay will be teaching people how he raises millions of dollars in private money to find his deals.
Lee will be speaking at the Sheraton Hotel in Station Square on Sunday Oct 21st. This is truly a once in a lifetime chance to see one of America's best known asset protection specialists live in person. For tickets and information on the Financial Freedom Seminar Series, go to the Western PA Real Estate Investors Association web site http://pittsburghreia.com/
This event is being co-sponsored by internet marketing expert Russell Brunson's dotcomsecretsX, the nation's leading internet coaching program. Russell with not be appearing at this event; however anyone interested in learning about internet marketing can follow this link above.