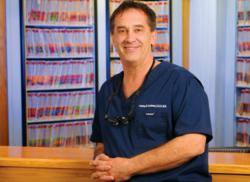 Bradenton, FL (PRWEB) September 24, 2012
Lindsay B. Eastman, DDS, MS, PA, is a periodontist that performs bone grafting to make dental implants possible for people with missing teeth. Many adult Americans are missing some teeth, and dental implants are a long term solution for that problem. However, when teeth have been removed from the mouth, whether through decay, trauma, or even accidental injury, the bone begins to deteriorate. The longer the teeth remain missing, the more bone loss will occur. Eventually, so much bone may be lost that the procedure to install dental implants cannot be performed until bone grafting has taken place.
There are three main types of bone grafting procedures that are used to augment a jawbone. Autogenous grafts utilize bone from the patient. Bone is removed from one area of the body where it is not needed and surgically installed in the jaw area. Allografts use human bone tissue that is from someone other than the patient. This bone material is highly screened so that it is safe, and so that there is little possibility of rejection. The third type of bone graft used by the periodontist is called the Xenograft. This bone is not from the patient; it is taken from a non-human source such as a cow bone.
The periodontist anchors the bone graft into the jawbone with very small screws made of titanium, and the area is closed up with sutures. The grafts may take anywhere from six to nine months to heal. Once the bone graft has healed, the procedure to install dental implants may be started.
When there is a minimum of bone in the jaw, implants are not an option. Patients who prefer implants may want to seriously consider bone grafting. More information about bone loss and the bone grafting procedure may be found at http://www.bradenton-periodontist.com.
Lindsay B. Eastman, DDS, MS, PA is a periodontist offering patients personalized dental care for Bradenton, FL since 1980. Dr. Eastman received his Doctor of Dental Surgery degree from Loyola University Dental School where he completed his Graduate training in Periodontics and his Masters of Science in Oral Biology. He received his Post-Graduate specialty training in Surgical Placement of Implants from Northwestern University Dental School, and completed Business Management Training from Pride Institute. He is part of one percent of dental professionals providing the most recent FDA cleared laser procedure for gum disease and periodontal treatment. To learn more about Dr. Eastman and his dental services visit his website at http://www.bradenton-periodontist.com and call (941) 792-3899.