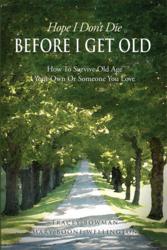 Indulgence may be our secret weapon in fighting the ravages of age
Whitefield, NH (PRWEB) September 26, 2012
Extended lifespans create new challenges for society as aging boomers are called upon to care for their parents while trying to create a better Old Age for themselves.  New book "Hope I Don't Die before I Get Old" delivers the good and bad news about aging, along with a wealth of easy to find information you need to know. Join the authors for a reading from the book and a talk on the Good News and the Bad News about "Living Old" at their Book Launch Party, Oct 18th from 6-8PM at GK framing 169 Hudson St, NY, NY see web site for more details-http://www.BeforeIGetOld.com
The Good News and the Bad News about Living OLD:

Good News-Lifespans are increasing
Bad News-We may outlive our savings, health and wits
Good News-Osteoporosis can be combated with a glass of red wine a day
Bad News-Drink more than 1-2 glasses and a host of new problems arise
Good news-Lifting weights for 1/2 hour a week raises metabolism and prevents falls
Bad News-You have to lift weights to get the advantage-seriously, there is no bad news
Good News-Older brains have subtle advantages that compensate for the loss of speed
• Bad News-There is no cure for Dementia or Alzhiemers-not yet
Good news-Concierge Doctors will help you build your health throughout old age
Bad news-There are not yet enough of them in every region of the country
Good News-Long Term Care Insurance protects you from catastrophic "end of life" costs
• Bad News-Not everyone qualifies to buy Long Term Care Insurance
"Hope I Don't Die Before I Get Old" contains a wealth of information about preparing for and dealing with the issues of aging and caretaking today. Told through the stories of the author's experiences with their parents as they aged, it includes all the information they wished they had known from the start–information that would have made their road a little easier, had they known where to look.   Along the way they came to a powerful point of view about aging and in this very readable and useful guide they unfold strategies for surviving old age.