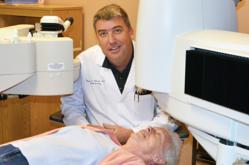 Scranton, PA (PRWEB) September 23, 2012
Northeastern Eye Institute is proud to announce another first step in eye care technology. On September 20, 2012, Dr. Thomas Boland was the first surgeon in Northeastern PA to perform the revolutionary bladeless laser cataract surgery procedure, iCataract™. The iCataract™ procedure provides unparalleled safety and comfort for cataract patients. Additional Northeastern Eye Institute surgeons will soon join Dr. Boland in offering this new, innovative technology, including Dr. Jerome Jordan, Dr. William Jordan, Jr., Dr. Arthur Jordan, Jr., Dr. Christopher Jordan and Dr. Mary Jennifer Frattali.
The surgeons at Northeastern Eye Institute feel that this technology will enable surgeons to provide superior results in their cataracts patients.
"The new iCataract™ technology sets a new precedent for cataract surgery. It offers a higher level of safety and precision that our patients are looking for, and we can now give it to them with the same trusted technology that we have been using in LASIK for over a decade," said Dr. Boland.
This advanced system is called iCataract™, and was developed by experienced LASIK and cataract surgeon, James Loden, M.D. of Loden Vision Centers in Nashville, TN. Dr. Boland was able to observe Dr. Loden's procedures in TN. iCataract™ is a process that allows surgeons to utilize their current FDA approved iEK Software with the Femtosecond laser technology (IntraLase FS60 and iFS platform) to perform laser cataract surgery incisions. Laser cataract surgery with the iCataract™ system offers exceptional outcomes and the pinpoint predictability surgeons and patients demand. The visual results have thus far been outstanding – a recent study showed that at one month, uncorrected vision in 90% of the patients who received this treatment was 20/25 or better.
Because iCataract™ allows surgeons to utilize laser technology already available at Northeastern Eye Institute, surgeons and patients now have an alternative to traditional cataract surgery that is not only safer, but more affordable than other laser cataract technologies.
"iCataract™ is the breakthrough that patients and surgeons have been waiting for in cataract surgery," said Dr. Boland. This proven and affordable solution is available now in Northeastern PA at Northeastern Eye Institute, the first in the area to utilize this ground-breaking technology.
About Northeastern Eye Institute
Established in 1984, the Northeastern Eye Institute has grown to become the leading provider of comprehensive eye care services in Northeastern Pennsylvania. Today, the Northeastern Eye Institute has 19 conveniently located offices throughout northeastern Pennsylvania, plus an outstanding team of 34 eye doctors trained and experienced in dealing with almost every major vision issue. Together, they provide the highest level of eye care and service available in the Scranton, Wilkes-Barre, Hazleton and Northeastern Pennsylvania region.
For more information on iCataract™, please contact Northeastern Eye Institute at (570) 342-3145 or visit http://www.neivision.com.