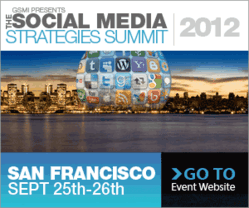 Coughlin will be appearing at the Summit in conjunction with a keynote presentation from USA Swimming Chief Marketing Officer Matt Farrell on "Taking a Local Event Global."
San Diego, CA (PRWEB) September 21, 2012
Natalie Coughlin, renowned Olympic swimmer and 12 time medalist will appear at the Social Media Strategies Summit from 10:00 am – 11:00 am on Tuesday, Sept. 25 at Marines Memorial Club & Hotel at 609 Sutton in San Francisco, California. Coughlin will be appearing at the Summit in conjunction with a keynote presentation from USA Swimming Chief Marketing Officer, Matt Farrell, on "Taking a Local Event Global." presentation that will feature a case study of the USA Swimming Aqua Zone and how innovative technology was used to enhance the fan experience event.
Coughlin's twelve medals tie the all-time record for the most Olympic medals among American female athletes. She is the most decorated female swimmer in World Championships history and was the first woman in Olympic history to win back-to-back gold medals in 100m backstroke. Natalie has captured an Olympic medal in every event she's entered, including the 4x100m free relay at the 2012 Olympic Games in London.
The Social Media Strategies Summit, now in its 3rd year has emerged as the leading social marketing event worldwide. With numerous domestic and international installments annually, the Social Media Strategies Summit has educated over 2000 marketing executives and social strategists from the world's most innovative and impactful organizations.
Through hands-on workshops, case studies and keynote presentations, the San Francisco summit will provide attendees with actionable social marketing strategies and tactics that will drive value and ROI.
The Social Media Strategies Summit - San Francisco will host several of the leading minds in the social media industry. The Summit will include case study presentations from organizations such as USA Swimming, Salesforce, Altimeter Group, Wildfire, NCAA, Wells Fargo, Unilever and many more. For more information please visit http://www.socialmediastrategiessummit.com
The Global Strategic Management Institute is dedicated to creating rich environments for learning, networking and ensuring their attendees have rewarding and valuable experiences. Recently named the 12th fastest growing private company by San Diego Business Journal, GSMI is a leader in the executive education industry, hosting dozens of conferences annually worldwide. For more information visit http://www.gsmiweb.com/