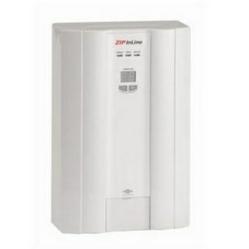 (PRWEB UK) 22 September 2012
CNMonline, a reputed online store, has introduced an exclusive and fine range of zip water heaters. These heaters add valuable benefits to the washroom and bring a practical and functional change to it. You will save electricity and it is easy to warm the water to any heating point without any limits to think about. These specially created water heaters are durable and have increased shelf life to supply consistent hot and warm water as per the requirements of home owners. The customized sizes of water heaters make it easy to install even in small sized bathrooms having limited space. You can always look for the color variations as they are available in many attractive colors.
Zip Instantaneous Unvented Inline Water Heaters 8.8kW is amongst the best energy efficient solution that is designed to supply hot water from either single or multiple outlets. The unique class of zip water heaters is fitted with precision microcomputer temperature control features and its subtle design allows them to fit easily over the sink or under the sink. The 8.8 KW water heaters are the best fit for up to 2 basins or 1 shower.
Zip Instantaneous Unvented Inline Water Heaters 13.5kW has programmable temperature settings which make it easy to adjust between approx. 35°C and 55°C. The water temperature which is required by user can be comfortably set using two touch-sensitive membrane keys. The slim line design not only adds beauty to washroom, but also lends the user comfort and easiness to clean the heater anytime. It is totally energy efficient and moreover, gets constant hot water supply for single or multiple outlets at selected temperatures.
Zip Electronic Instantaneous Water Heaters are specially designed to give instant hot water supply in fraction of seconds. The constant supply of hot water is available at the pre-selected temperatures and you will not have to wait too long to warm the temperature at any particular temperature range. The DEX model of zip water heaters will make it easy to use with pre-heated water out there at the solar heating systems. The water heaters make use of high end bare wire heating system technology which will have zero standing heat loss if there is no water. The heating power will be electronically adjusted if there is any variation between the inlet temperatures or pressures.
CNM Online is one stop shopping place for highly valuable and affordable products. The niche online store have in the last few years come up with several unique range of electronic and general products which have a practical orientation and are used to make life easy and comfortable. There are several new range of products available which will meet the purpose and means of customers and give them the reason to buy. The products are not only having qualitative advantages but also provide great functionalists for easy use.
For real and valued information related to sip water heaters, it would turn out to be a real worthy option to search at:http://www.cnmonline.co.uk/the-zip-water-heaters