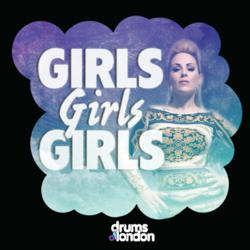 Teaneck, NJ (PRWEB) September 24, 2012
Radikal Records has announced the US release of a remix package for the recent Drums of London track entitled "Girls Girls Girls." The recently revamped remixes feature British female vocalist Louise Bagan. The complete single package, which includes the original Drums of London production and the latest remixes, is currently available as a digital download on the Radikal Records website and is set to release on iTunes, Beatport and other music services on Tuesday, October 9th.
Drums Of London are a hot new production duo from the UK that aims to bridge the gap between their urban music roots and mainstream dance. Their first offering, "Girls Girls Girls," is a creative reinterpretation of the classic UK Top 10 Hit single from 70s British pop group, Sailor. The original mixes of the new dance version were released last year in the UK with some exciting success: number 1 on the DJ Tunes Top 100, getting radio support on Scott Mill's Drivetime on BBC Radio 1 and landing on the Abercrombie and Fitch 2012 Summer US In-Store Playlist.
Now equipped with a new set of remixes featuring the skillful and sexy vocals of Louise Bagan and a batch of tantalizing new music videos to accompany them,"Girls Girls Girls" has taken on new life and promises to take this fun and exhilarating ode to Girls to even greater success in clubs all over America.
"Girls Girls Girls" iTunes single package track listing:
1. Wawa Mix Ft Louis Bagan - Radio Edit
2. Deckscar Dubstep Remix
3. Dj Kone & Marc Palacios Ft Louis Bagan - Remix Radio Edit
4. Jordi MB & Albert Remix feat Louise Bagan - Radio Edit
5. Original Radio Edit
Radikal Records offers artists national distribution through SONY/Red Distribution, electronic distribution through iTunes, eMusic, Amazon and all major downloading services, and other resources including production, artist development, product marketing and licensing opportunities. In recent years, Radikal has worked with many artists including: 2 Unlimited, N-Trance, Zombie Nation, ATB, Yello, Scooter, Schiller, Blank & Jones, Cosmic Gate, Sinead O'Connor, Voodoo & Serano, Apollo 440 and others. Visit http://radikal.com for more information.