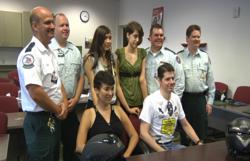 He really wasn't supposed to make it, according to the statistics; to see him eight months later is pretty fantastic.
(PRWEB) September 24, 2012
Thanks to appropriate riding gear and the help of Acadian Ambulance medics, a father and daughter survived a near-fatal motorcycle crash in St. Martinville, La.
Dennis Primeaux, his wife, Irene, and their daughter Kennis were riding their motorcycles on Christmas Eve 2011. After a brief visit to their local park, Kennis got on the back of her dad's bike to ride home, with Irene following. Irene was a quarter-mile behind them when she witnessed her daughter and husband being struck by an 18-wheeler.
Acadian Ambulance medics quickly arrived on scene and found Dennis with severe head injuries and Kennis with a broken femur. They were transported by ground ambulance to a local Walmart parking lot where Acadian Air Med was waiting to airlift them to Lafayette General Medical Center.
Dennis was not released from the hospital until Feb. 3, after numerous surgeries. Today, he is still in rehabilitation and uses a motorized cart to get around but is expected to start walking on his own again by January. Kennis was released from the hospital Jan. 1 and, after surgery and physical therapy, has made a full recovery.
The Primeaux family was so moved by the care and dedication of their medics that they recently contacted Acadian Ambulance to have a reunion. Medics Dave Hubbard, Tim Smith, Trent Boudreaux and Tim Demaya attended the event and received Meritorious Service Awards for their lifesaving efforts from Operations Manager Orlando Rolon and Operations Supervisor Donnie Simon. Kenneth Dartez, the Air Med flight paramedic at the incident, was unable to attend but also received a Meritorious Service Award.
The medics were very touched to see the Primeaux family again. Smith drew a portrait of two ambulances and an Air Med helicopter as a gift for the family, and all of the medics signed it. Boudreaux was impressed by Dennis' amazing recovery, saying, "He really wasn't supposed to make it, according to the statistics; to see him eight months later is pretty fantastic."
Dennis attributes his recovery to his safety gear. "I think people should wear helmets because that can be your only protection between your head and a car, or your head and the road," he said. "That is what it was for me: protection between my head and the 18-wheeler."
Tony Taylor, South Louisiana State Ambassador of Star Touring and Riding Association, also attended the reunion and recommended that "even in the states that don't require helmets, that any rider that gets on a motorcycle wears a helmet."
Irene agrees that the safety gear is what saved her family, writing in her blog, "According to the paramedics, ICU doctors, and several surgeons, the only reason I still have a husband and youngest daughter is because of his safety-gear obsession."
Dennis has not let his accident dampen his love of motorcycles. "Right now, I'm recovering," he said, "but when I can, I'll start riding again."
A video of the reunion can be accessed here: http://www.youtube.com/watch?v=Meb9GXH4vCs&feature=youtu.be
Acadian Ambulance is an emergency and non-emergency medical transportation provider in Louisiana, Texas, and Mississippi. Since 1971, Acadian has been committed to providing the highest level of emergency medical care and transportation possible. In the past decade, the company has expanded to include a diverse suite of services in health, safety, and transportation. Acadian's six divisions are Acadian Ambulance Service, Acadian Monitoring Services, Air Med, Executive Aircraft Charter Service, National EMS Academy and Safety Management Systems.
###