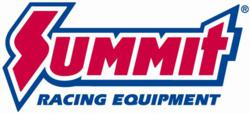 Tallmadge, OH (PRWEB) September 22, 2012
Cool Shirt is the world leading in personal cooling systems. Used by over 25,000 racers worldwide, a Cool Shirt system helps you manage body heat in extreme environments by circulating temperature-controlled water from a remote-mounted cooler through a shirt worn under your race suit. By keeping you cool and comfortable, a Cool Shirt system reduces fatigue and dehydration. That means your reflexes and focus remain sharp—and that helps you win races.
Summit Racing carries the original Cool Shirt Water Shirt as well as complete cooling systems, including:

Club Systems for small road race or circle track cockpits or short-lap racing
Pro Systems with Cool Shirt plus blower-driven cool air for your helmet
Portable Bag Systems for dragsters and other very tight cockpits
Porticool Systems with a CFC-free coolant canister—ideal for kart racing
Summit Racing also carries individual Cool Shirt shirts and system components like coolers, mounting trays, hose, fittings, batteries, transformers, and more. We also carry Cool Shirt Air Blower systems that supply cool, filtered air to your racing helmet.
See the entire Cool Shirt product line available at Summit Racing here.
Summit Racing Equipment
http://www.SummitRacing.com
1-800-230-3030