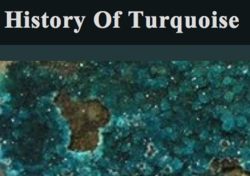 In the Americas, turquoise was discovered and even worshipped by some ancient cultures.
(PRWEB) September 22, 2012
A new website is being launched to delve into the history of turquoise and its use in ancient and modern civilizations.
HistoryOfTurquoise.com is the latest website to provide visitors with valuable information about the cultures and civilizations who first started mining the stone and how turquoise shaped their culture.
"Many early civilizations believed the turquoise stone was magic and granted certain powers," said a History of Turquoise spokesperson. "From the Far East all the way to what is now known as North America, wherever turquoise was discovered, civilizations changed."
In Ancient Egypt, turquoise was used to decorate the gold head dresses of kings. Even King Tut's burial mask and tomb were decorated with gold and turquoise.
In the Americas, turquoise was discovered and even worshipped by some ancient cultures. According to turquoise history, the Aztecs believed the stone was magical and provided the wearer with protection against sickness and enemies.
In Reality, turquoise is a blue to gray-green mineral that consists of copper aluminum phosphate. It's actually the copper that gives turquoise its blue color. In the Southwest, turquoise deposits were discovered in Arizona, Colorado, New Mexico, California, Nevada and Utah.
Many historians believe the Anasazi opened their first turquoise mine around 1000 AD. Ancestors of the Navajo Indians are also credited with opening ancient turquoise mines. The Chinese have also mined turquoise for hundreds of years, carving beautiful engravings from turquoise and playing a crucial role in the history of turquoise.
To learn more about the turquoise history and its use throughout the world, visit historyofturquoise.com.