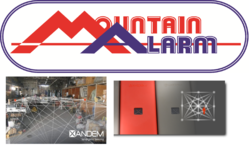 (PRWEB) September 23, 2012
Mountain Alarm, a division of Fire Protection Service Corporation, announced today that they are partnering with Xandem Technology, a Utah startup company based in Salt Lake City, to make Tomographic Sensing Detection (TMD) available to commercial and residential customers throughout the Intermountain West. TMD is created by installing a network of wireless 'nodes' that sense motion within a specified area and send a signal back to a receiver at the security panel. Unlike current infrared motion sensors or beam sensors, TMD does not require a direct line of site in order to detect movement and register an alarm. TMD sensors can be placed in cabinets or even built into the walls without degrading the detection sensitivity.
Mountain Alarm deployed one of the first Xandem TMD networks in 2011 at a warehouse facility for a client in which other detection technologies were ineffective. "The harsh environment, temperature changes, large coverage area and equipment blocking the line of site created a very difficult challenge in which other devices would easily false alarm", said Brad Nye, General Manager for Mountain Alarm Northern Utah. "The Xandem TMD solution was easy to install, offers complete and reliable coverage, and hasn't resulted in a single false alarm." The warehouse facility manager stated, "Our company has lost hundreds of thousands of dollars from break-ins to our warehouses in the past. Since installing Xandem's TMD technology, all further break-ins have been halted. TMD was the only solution available that gave us reliable and complete coverage with its 'see-through' capabilities." To view a video regarding this warehouse deployment, visit http://www.youtube.com/watch?v=iCCwzj8-SyM.
Mountain Alarm can retro-fit nearly any security panel to support a TMD network. "There are several game-changing advantages that stand out about Xandem TMD", says Mountain Alarm's Director of Marketing, Justin Fawson. "Not only can we connect them to existing panels, they're ideal in harsh environments and can be installed in places where they cannot be seen. This appeals to our customers who want discretion and, more importantly, prevents would-be intruders from locating the devices in order to circumvent or defeat them. Even coming through the wall would not prevent detection by a TMD network." Another advantage of the TMD is that the sensitivity can be adjusted for a variety of situations. "One of my favorites is what we call 'party mode' in which the sensitivity is adjusted to only detect the movement of a group of people. No more crazy parties while mom and dad are on vacation", says Fawson.
Xandem TMD is immediately available through Mountain Alarm to customers in Utah, with availability in Idaho, Washington and Colorado later this year. For a TMD quote or to speak with a salesperson, visit http://www.mountainalarm.com and click on the Xandem TMD link.
Mountain Alarm is a Fire Protection Service Corporation® company based in Ogden, Utah. They have been in business since 1952 and serve residential and commercial customers throughout the Intermountain West. Their products and services include cameras, managed access (card access), CCTV, intrusion detection, remote video and alarm access, central station monitoring and automation. They are rated A+ by the Better Business Bureau.