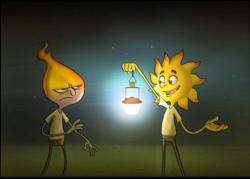 The widespread airing of this animated video will create what marketing calls AIDA (Awareness, Interest, Desire, Actions). - Art Medina, QS International Philippines
Denver, Colorado (PRWEB) September 26, 2012
This ambitious campaign will produce and distribute a series of 15 public service announcements produced by Peabody Award-winner Firdaus Kharas. They will be broadcast on television and radio, at public events as well as on all mobile platforms in 73 languages used in over 50 countries.
The Stars
Meet Sunny and Stubborn, two illuminating animated characters who use competitive humor to show why solar lights offer positive alternatives to traditional fuels. The Solar Campaign is not about selling solar lights. There are hundreds of organizations and companies that do this very well. The Solar Campaign is working with all these companies to explain the life-saving and transforming effects of switching to solar.
The Case For Solar
The World Bank estimates that living in a home reliant for evening light on kerosene and other fuels, like candles and wood, is equal to smoking two packs of cigarettes a day. Imagine what a billion homes are doing to people's lungs and to the earth's environment. The World Bank estimates that over 2.5 billion people in the world have no or intermittent access to electricity.
The effects of using kerosene are devastating [1]:

Traditional fuels can cause death, mostly from cardio-pulmonary disease; 50 percent of severe burn victims in some developing countries are victims of overturned kerosene lamps
Kerosene lamps give off 190 million tons of CO2 into the atmosphere every year; that's equal to operating 30 million vehicles
The number of people living without electricity in Africa is expected to grow from 110 million to 120 million during the next decade, grid expansion is not keeping pace with population growth
The benefits of switching:

Kerosene can cost 10-25 percent of a family's income. A solar light is a one-time expense - or a time-payment model - of about eight percent of that income.
Solar energy is free, renewable and clean
Students can study 38 percent longer with solar lights [2]
The Case For Animation
Behavior change through animation does work. Canadian film-and-video producer Firdaus Kharas has done it before with campaigns for condoms (The Three Amigos), malaria prevention (Buzz & Bite) and domestic violence (No Excuses). His projects have received staunch international support from the United Nations, hundreds of NGOs and Nobel Peace Prize laureate Archbishop Desmond Tutu.
How To Get Involved
The Solar Campaign is raising funds through crowd-funding on IndieGogo. One hundred percent of raised funds will be used to produce and distribute Solar Campaign's public service announcements. Most of the funds will go to the animation studios that create the spots. The ultimate goal is for the PSAs to reach every person in the world who has no access to electricity.
The Solar Campaign is a campaign by Chocolate Moose Media with seed money from Nokero, who designs, manufactures, and distributes solar light bulbs out of Colorado, USA.
[1] Solar Lighting for the Base of the Pyramid - Overview of an Emerging Market (page 14): 2 - Solar Lighting for the Base of the Pyramid - Overview of an Emerging Market (page 16): http://www1.ifc.org/wps/wcm/connect/a68a120048fd175eb8dcbc849537832d/SolarLightingBasePyramid.pdf?MOD=AJPERES