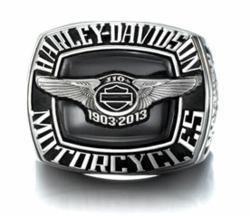 Each customized ring allows Harley-Davidson owners and fans to commemorate the founding year of Harley-Davidson and tell their story even when they are not on their bike.
Minneapolis, MN (PRWEB) September 24, 2012
Jostens today announced the availability of Limited Edition custom Harley-Davidson® rings to commemorate the Harley-Davidson® 110th anniversary. Created by Jostens, a leading designer and producer of custom affiliation rings and an official ring partner of Harley-Davidson, each limited edition ring is individually numbered to signify it is one of the only 1,903 rings created to mark Harley-Davidson's 110th anniversary. The Limited Edition Ring provides Harley-Davidson enthusiasts the opportunity to celebrate the birthday of an American icon and own a piece of history that will not be available again.
Just like Harley-Davidson motorcycles, each 110th Anniversary Limited Edition Ring is designed to show off the owner's one-of-a-kind Harley-Davidson style. The rings tell the unique history and tradition of Harley-Davidson while allowing owners to add their history through custom side panels that represent their bike. The 1,903 available rings can be customized at http://www.jostens.com/Harley-Davidson, but can only be purchased by Harley-Davidson enthusiasts at Harley-Davidson dealerships while supplies last.
"Jostens is honored to work with Harley-Davidson to create this limited edition ring that celebrates this amazing milestone and helps tell the story of one of America's most iconic brands," said Matt Wewel, director, Specialty Markets, Jostens. "Each customized ring allows Harley-Davidson owners and fans to commemorate the founding year of Harley-Davidson and tell their story even when they are not on their bike."
The 110th Anniversary Limited Edition Ring will be the only Harley-Davidson ring available that prominently displays the 110th anniversary logo. The logo sits atop a black stone framed by HARLEY-DAVIDSON and MOTORCYCLES. The ring metal options include white and yellow gold, Silver Elite®, Solaris Elite™ and White Lustrium® and enable the Harley-Davidson fan to chisel their identity and loyalty into their choice of metals. The ring side choices include the 110th anniversary logo, one of the new 110th bike side panels; the classic Harley-Davidson Bar & Shield; bikes from the DYNA®, Sportster®, CVO™, Softail®, Touring, or V-Rod® collections as well as other classic panel choices.
Jostens' officially licensed Harley-Davidson 110th Anniversary Limited Edition Ring and other custom rings and pendants are only available through participating Harley-Davidson dealerships. To order a ring or pendant and to find out more information visit a participating Harley-Davidson dealer today or design your jewelry online at http://www.jostens.com/harley-davidson.
Along with creating officially licensed Harley-Davidson products, Jostens provides championship rings and trophies for NASCAR-sanctioned series and is the exclusive designer/provider of NASCAR championship rings. Jostens has created 29 of the 46 NFL Super Bowl rings, including the ring for the Green Bay Packers Super Bowl I victory. Jostens has also created NBA Finals and World Series championship rings, as well as rings for collegiate sports championships.
About Jostens
Jostens is a global company focused on helping people tell their stories, celebrate important traditions and recognize achievements through industry-leading products, programs and services. Founded in 1897, our products include educational icons, such as class rings, graduation announcements, diplomas and regalia, school yearbooks and other memory book products, and legendary fine jewelry experiences for athletic champions and their fans. Jostens is a subsidiary of Visant Corporation, a marketing and publishing services enterprise servicing the school affinity, direct marketing, fragrance, cosmetics and personal care sampling and packaging, and educational and trade publishing.