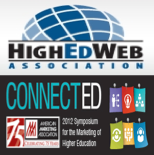 "As AMA program manager for the upcoming 2012 Symposium for the Marketing of Higher Education, I am happy to have Converge Consulting providing us with a live tweet stream." - Quinn Meyer
Cedar Rapids, Iowa (PRWEB) September 23, 2012
Sometimes, you can't attend a conference in-person. Other times, you want to find out what's going on in a session occuring at the same time as one that you are already watching. Converge Consulting has you covered!
Converge Consulting will be providing a live video stream of the upcoming HighEdWeb Conference on October 7th-10th in Milwaukee, Wisconsin. Streaming sessions will cover a variety of topics including:

Management and Professional Development
Marketing Content and Social Strategy
Usability, Accessibility, and Design
Applications, Integration, and Mobile
Converge Consulting will also be facilitating a live tweet stream for the American Marketing Association's 2012 Symposium for the Marketing of Higher Education on November 11th-14th in New Orleans, Louisiana.
About Converge Consulting
Converge Consulting is a digital marketing communications firm. Using online technologies and innovative, customized approaches, Converge collaborates with clients to strategize, execute, and analyze their marketing efforts. Converge focuses on inbound marketing - SEO/PPC, Content Strategy (Social Media and Blogging), and Google Analytics - to improve higher education marketing initiatives. For more information, visit http://www.convergeconsulting.org and/or contact Ann Oleson at 319-804-5580 or ann(at)convergeconsulting(dot)org.