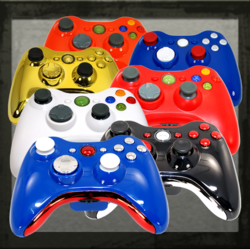 The most advanced controller mods on the market
TAMPA, Fla. (PRWEB) September 21, 2012
GamerModz®, LLC announced on September 21st, 2012 that they have released a new cutting edge Create-A-Controller feature on their industry leading Modded Controller eCommerce website, GamerModz®
Utilizing the custom Create-a-Controller design software allows the user to create a custom modded controllers with ease, users can choose from every color, pattern and finish GamerModz offers in their enormous inventory.
Building from the largest selection of Xbox controller parts in the world gives the user over 5 billion possible combinations virtually guaranteeing their ability to build the perfect controller.
After users of the Create-A-Controller software design their modded controller, GamerModz gives them options to fit nearly any budget. GamerModz allows users to choose Parts Only, Send-In Service or Pre-Built. These options allow the user to buy just the parts (Parts Only), send their controller in for GamerModz to install the parts (Send-In) or purchase is built, shipped and ready to go when it arrives (Pre-Built).
After building their modded controller, and choosing their mod type, GamerModz®also gives users the ability to choose the most advanced controller mods on the market. Unlike other companies, none of GamerModz® controllers require holes drilled in to that custom Xbox controller that was just built.
About GamerModz®, LLC
GamerModz® is a Tampa, Florida-based company that designs and manufactures Modded Controllers and Rapid Fire Controllers for the XBOX 360 and PS3 gaming consoles. In addition to manufacturing modified controllers, GamerModz also sells individual custom controller parts and accessories to gamers.
GamerModz® has been in Modded Controller industry since January of 2008 – the first company to offer Modded Controllers!
GamerModz® Modded Controllers are amongst the most advanced controllers in the gaming industry. The innovative Shots per Second technology – offered only by GamerModz® - allows gamers to set the rate at which their weapon fires in real time and with single shot precision.
More information about GamerModz®and their products can be found at http://www.GamerModz.com. The GamerModz® logo is a registered service mark of GamerModz, LLC in the United States.