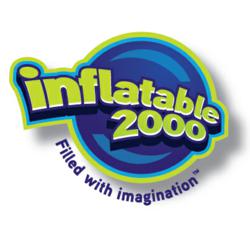 Los Angeles, CA (PRWEB) September 25, 2012
Inflatable 2000, creators of custom inflatables and promotional advertising products nationwide, will be at the American Inflatable Road Show in Philadelphia on September 26th, 27th, and 28th. The American Inflatable Road Show is specifically designed for those in the inflatable industry. The AIR Show was founded in 2012 with the support of leading US manufacturers, and it is the only show dedicated entirely to inflatables and the inflatable industry.
At the AIR Show, sponsored by the American Inflatable Alliance (AIA), visitors will find the only place where the latest and the most creative inflatables are introduced by the leaders of the industry. The show differs from other trade shows due to its unique focus on companies that specialize in inflatables, as well as the way customers can experience the products that they are considering first-hand and interact with them.
The American Inflatable Road Show was created to bring a series of Regional Shows to various cities across the country each year. The collective experience of this group represents more than a century of innovative design and quality manufacturing. This affordable show features the leaders in the industry and is designed specifically for those in the inflatable industry, such as event companies, backyard rental companies, family entertainment centers, and anyone featuring inflatable play structures as a component of their business. This show is a big step in moving the industry forward, with its emphasis on exhibitors who embody the principles of best practices when it comes to things like materials, standards in safety, and manufacturing processes.
Inflatable 2000 was recently contracted by NASA & JPL (Jet Propulsion Laboratory) to create seven life-size replicas of the MSL "Curiosity" rover that recently landed on Mars. The inflatable replicas are used to create awareness of NASA's Mars landing as well as the functions and size of the MSL. Inflatable 2000 creates custom inflatables and promotional advertising products for businesses and companies nationwide. They offer a huge variety of inflatable products for party rental companies, ranging from bounce houses, interactive inflatables, obstacle courses, jumpers and combos, and even inflatable slides and water slides. Their inflatable jumpers and bounce houses offer a wide variety of licensed products with many well-known brands including Disney characters, Batman and Power Rangers.
The AIR Show in Philadelphia will be held at the Pennsylvania Convention Center and will feature educational seminars, exhibits and safety training. Doors will open to the public on Wednesday, September 26th at 8:00am. The show will close on Friday, September 28th at 1:00pm.
If you would like to learn more and see examples of what Inflatable 2000 produces, you can visit their Facebook page and visit http://www.inflatable2000.com to see all of their products.