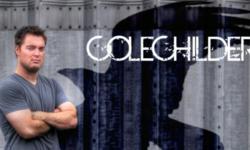 He has a high energy live show that rivals Finger 11 and even The Black Crowes. I'm genuinely surprised a major label hasn't picked him up yet." – Zak Tyler, Former Program Director, 100.5 Max FM, Norfolk , Va.
Virginia Beach, VA (PRWEB) September 25, 2012
"Energetic, emotional, and engaging" are the words to describe Cole Childers' rock mantra.
Growing up in Bainbridge Island, Wa., Cole was influenced by Seattle's grunge scene but, at 17, guitar in hand; Cole wanted his music to be his own. Musically influenced by Foo Fighters, Shinedown and Gavin Rosdale. Cole's rock artist powerful vocals and verbal imagery will leave you wanting more.
Cole joined the United States Navy in 2002 and after returning from a six-month deployment in 2005, where he wrote most of the music on what would become his debut album; the singer, songwriter and guitarist formed Virginia Beach-based band Chasing Corona.
As the voice of Chasing Corona, Cole's records have been spun on Norfolk area radio stations FM 99, 96X, 100.5 Max FM and 94.1 The Point, and nationally from New York's Q 104.3 to Cape Girardeau, Mo. With the band's release of "Black Eye and Candlelight", Cole's energy produced enough local buzz and press that the Navy granted permission to shoot the "Sand to Stone" video at Little Creek Amphib Base in Norfolk. Stories online at HamptonRoads.com
Cole has taken the stage with Creed and Motley Crue at the Verizon Wireless Va. Beach Amphitheater, opened for Green River Ordinance and The Bo Deans at the Ntelos Pavilion in Portsmouth, and has rocked New York's Fleet Week three years running, playing with George Clinton and Joan Jett.
In 2010, Cole left Chasing Corona to focus on a newer vision for his songwriting. "My lyrics are a lot more current, positive and hopeful," Cole said of his new project.
The debut single from Aurora, "Fall With Me", was shot in LA by legendary Producer Scott Hansen and features the emotional turmoil often associated with the men and women of the Armed Forces. Cole is currently serving Active Duty Navy at JEB-Little Creek in Norfolk, Va. Check out more online:
http://www.colechilders.com
http://www.facebook.com/colechildersmusic