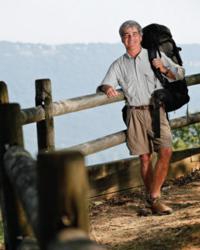 Dr. Moore's contributions all bear his signature trademark of excellence, both in terms of service delivery and behind-the-scenes organization.
Salt Lake City, UT (PRWEB) September 23, 2012
The Mountain Laurel Award, bestowed annually by the directors of ACWM, recognizes outstanding contributions to the field of wilderness medicine by an individual or group in the southern Appalachians. It is considered a lifetime achievement award, and is the most prestigious regional wilderness medicine award granted in the southeastern United States.
Dr. Chris Moore has an extensive record of teaching and service in wilderness medicine. He served on the Board of Directors of the Wilderness Medical Society from 1996 to 2000 and from 2005 to 2007. He was the Chair of the 10th Annual Wilderness Medical Society Conference in Squaw Valley CA in 1993, founded the Environmental Council of the Wilderness Medical Society in 1992, and was the Wilderness Medical Society's Delegate to the 1992 Earth Summit in Rio de Janeiro.
He has served as the Medical Director of the World Cup Whitewater Competition, the US Team Trials, and was the Venue Medical Coordinator of the Whitewater Competition at the 1996 Atlanta Olympic Games. Currently he serves as President of The Odyssey Company in Chattanooga, TN.
He is also the founder and director of the Southeast Wilderness Medical Conference, which ran from 1997 to 2005 and restarted in 2011. He will be holding this conference again in Chattanooga June 23-27, 2013.
For the past few years he has served as the Director of Wilderness and Event Medicine at University of Tennessee College of Medicine-Chattanooga, and most recently he became the Chief Medical Officer at Erlanger at Hutcheson Hospital in the Chattanooga area.
"Between his Atlanta Olympics work, running an extremely popular and successful southeastern wilderness medicine conference in our region from 1997-2005, restarting this conference last year, and serving as a regional wilderness medicine academician, he has a remarkable record of service to our local wilderness medicine community," says Dr. Seth Hawkins, ACWM Executive Director. "In his national and international work, he has also served as a southern Appalachian representative to the rest of world, and shown that our wilderness medicine providers and academicians are among the best anywhere."
The Wilderness Medical Society (WMS), a 501(c)3 organization, is the world's leading organization devoted to wilderness medical challenges. Wilderness medicine topics include expedition and disaster medicine, dive medicine, search and rescue, altitude illness, cold- and heat-related illness, wilderness trauma, submersion injuries, envenomation, and wild animal attacks. Founded in 1983, the WMS has long-standing commitment to education and research, sponsoring accredited continuing medical education conferences, publishing a peer-reviewed quarterly medical journal, an educational lecture series, and practice guidelines for wilderness emergency care.