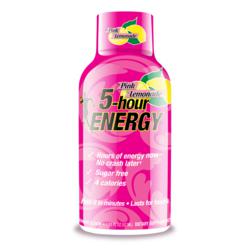 Farmington Hills, MI (PRWEB) September 24, 2012
5-hour ENERGY® is joining the battle against breast cancer with the upcoming introduction of a Pink Lemonade flavor. Starting October 1, 2012, and running through December 31, 2012, a portion of each sale of new Pink Lemonade 5-hour ENERGY® will be donated to the Avon Foundation for Women Breast Cancer Crusade.
"Breast cancer can be defeated if we all do our part," said Living Essentials, LLC, President Scott Henderson, "By joining with the Avon Foundation for Women Breast Cancer Crusade we have been granted the privilege of helping the cause financially and through increased awareness."
Living Essentials, LLC, the distributor of 5-hour ENERGY®, has committed a donation of five cents per bottle of Pink Lemonade 5-hour ENERGY® sold, with a minimum donation of $75,000.
Given that more than 9 million bottles of all versions of 5-hour ENERGY® are sold per week, the company's donation could result in a very large check delivered to the cause.
"We are pleased to be able to make a significant donation," said Henderson, "But we want it to increase. So we encourage people to do their part by buying new Pink Lemonade 5-hour ENERGY® starting October 1. We'd be thrilled to have you make us write a bigger check."
Pink Lemonade 5-hour ENERGY® will be available through 5-hour ENERGY's toll free number 877-798-1119, online at http://www.5hourenergy.com and in retail outlets across the country starting October 1, 2012. Cost: $2.99 SRP each or $29.99 SRP for a twelve pack. Retail pricing can vary.
NASCAR Goes Pink
To bring increased awareness to the cause, 5-hour ENERGY's® NASCAR vehicle driven by Clint Bowyer will be painted pink at select Sprint Cup races in October:

October 7: Talladega, Good Sam Roadside Assistance 500
October 13: Charlotte, Bank of America 500
October 21: Kansas, Hollywood Casino 400, Clint Bowyer's home track
October 28: Martinsville, Tums Fast Relief 500
Additionally, MWR (Michael Waltrip Racing) will donate a portion of all trackside Clint Bowyer pink merchandise sales during these four races to the Avon Foundation for Women Breast Cancer Crusade.
About 5-Hour Energy®
5-hour ENERGY® is a liquid energy shot that provides a feeling of energy and alertness that lasts for hours. It contains a blend of B-vitamins and amino acids, zero sugar, four calories, caffeine comparable to a cup of the leading premium coffee. It is available at retail outlets in the United States and Canada as well as throughout the U.K., Ireland, Spain and the Netherlands.
About the Avon Breast Cancer Crusade
The Avon Breast Cancer Crusade, which commemorates its 20th anniversary in 2012 has donated more than $740 million for research and advancing access to care, regardless of a person's ability to pay. The Avon Breast Cancer Crusade awards funding to beneficiaries ranging from leading cancer centers to community-based grassroots breast health programs to support breast cancer research and access to care. The Crusade has enabled more than 17 million women globally to receive free mammograms and breast cancer screenings, educated more than 100 million women about breast cancer, and funded promising research into the causes of breast cancer and ways to prevent the disease. Avon raises funds for the Crusade through the sale of Avon "Pink Ribbon" products, and through events such as the U.S. Avon Walk for Breast Cancer series, which is the Avon Foundation's largest fund-raising source.