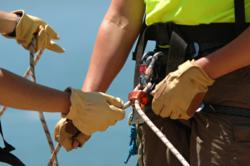 Your safety is our business.
Hammond, IND (PRWEB) September 27, 2012
Comprehensive range of industrial safety services from Code Red Safety is now making life easier for industries looking for complete project support for all their safety requirements. The company has an enviable reputation throughout the United States in handling different types of confined space rescue requirements that can have disastrous consequences. Code Red Safety is a one stop shop providing safety equipment, safety training and temporary staffing support for industries like warehousing, manufacturing, refineries, mines, petrochemicals, construction, and many more. The trained rescuers of the company are experts in dealing with critical safety operations like fall protection, lockout tagout, trench rescue, Hazmat operations, and confined space operations.
An emergency situation can occur in a confined space when the workers operating within that space are not able to get themselves out of that area due to a hazardous atmosphere or an injury. These are extremely challenging situations for any industry and generally take place in sewers, storage tanks, underground vaults, etc. Occupational Safety & Health Act lays down certain working conditions to promote a healthy and safe workplace. The Act also empowers workers to get trained, review records, and receive information on the probable occupational hazards. Code Red Safety offers top class training facilities on different aspects of OSHA to help organizations build working conditions that are safe for the workers.
All the rescue technicians from Code Red Safety have the necessary certifications and are also trained in using hazardous materials and rope systems. Apart from offering the most trusted rescue teams, the company also provides attendants, supervisors, PRCS entrants, calibration stations, monitoring equipment, blowers, and fans. When asked about the key to the company's successful run in the industry, a senior spokesperson of Code Red Safety, Matthew Jancosek said, " Most safety companies promise customer satisfaction, and so do we but Code Red Safety does it by empowering our employees to do whatever it takes to meet your needs. We screen them, train them thoroughly, and give them the tools to do a great job. We give them the license to deliver the highest levels of customer satisfaction in the industry".
About Code Red Safety: Code Red Safety is acclaimed team of safety professionals offering the highest standard of safety products, personnel, and training since 1995. The company is now the top choice for industries looking to meet OSHA and other regulatory safety specifications.
Contact:
http://www.coderedsafety.com
Phone: 800-499-5253