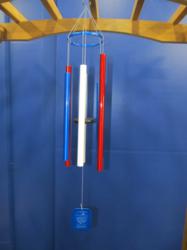 I'm proud our company is able to provide long-lasting wind chimes while also contributing to the American workforce.
Dallas, TX (PRWEB) September 22, 2012
Ecowindchimes.com is launching the company's latest wind instrument, the Patriotic Wind Chime. This special wind chime is perfect for people who want to show off their love for the USA year-round. The American inspired design is sourced and manufactured in the USA. Plus, the Patriotic Wind Chime can be engraved with a special message. The wind chime, developed by Grace Notes, offers only the finest aluminum tubing and is thirty-six inches in length. The Patriotic Wind Chime is also quality built and designed with an unflawed attention to detail. The chime's E-minor tone rings in harmonies consistent with the company's popular Small Earthsong.
"People use wind chimes for many reasons. Wind Chimes can be charted back 5,000 years for decorative and even medicinal purposes," said Stephen Betzen, Owner. "Our chimes are made in America and sourced in America. The Patriotic Chime is especially unique because it has a versatile purpose. It can be used as a welcome home gift for troops, to memorialize a service member, or to show one's own love for the USA."
All products sold by Ecowindchimes.com come with a satisfaction guarantee. The Patriotic Chimes are made of red, white and blue tubing. Customers have the option of personalizing the wind plate and gift wrapping is available. "All of our wind chimes are created with careful consideration to the quality of the materials used, the appeal of the design, and the use of professional craftsmanship - such as hand-tuning. I'm proud our company is able to provide long-lasting wind chimes while also contributing to the American workforce," continued Betzen. The Patriotic Wind Chimes sell for $121.00 and stands up to harsh environmental factors. Customers can listen to the wind chimes on the website at Ecowindchimes.com.
Media samples are available to qualified members of the press.
About:
Eco Wind Chimes was launched in 2005. The company is deeply committed to American social, economic, and environmental issues. Eco Wind Chimes is owned by Just One Moon, which is dedicated to providing a message of ethics and sustainability. The soothing products produced by Eco Wind Chimes complement the company's dedication to quality workmanship, affordability, and purposeful retail.
Grace Notes wind chimes are considered to be the "most musical" on the planet. Because Grace Notes uses a revolutionary and unique pinned suspension device, the wind chimes produce crystal-clear tones. Grace Notes uses recycled lumber composite strikers and top-quality aluminum tubing. The company sources all of its materials from the USA, and Grace Notes manufactures all chimes in the USA.