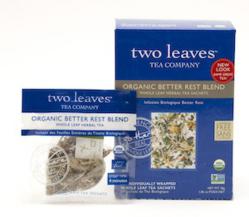 Basalt, CO (PRWEB) September 27, 2012
Building a brand in today's competitive grocery aisles is a challenge for the largest consumer products companies. For a small entrepreneurial business with a limited marketing budget, it is even tougher. When Richard Rosenfeld launched two leaves and a bud tea company ™ in 2004, he wanted "a brand name that said 'tea,' was unique and fun, and had character," he says. Too much character, as it turns out.
Two leaves tea company™ is the new incarnation of the small but beloved tea company based in Colorado, now that Rosenfeld chose to eliminate "and a bud" from the name.
Since being founded, the company has built a successful niche consumer brand in stores, cafés and restaurants in the U.S. and Canada. The company's name, however, presented challenges that Rosenfeld had not anticipated in the early days of business: "It was too damn long," he says.
Not only was the name relatively lengthy for a simple and elegant beverage like tea, Rosenfeld says all nine syllables of "two leaves and a bud tea company" were ripe for confusion.
"There is a huge amount of brand equity in your name and how the customer knows you. When we shift that, we take a big risk," Rosenfeld says. "But when people can't figure out what your name is — is it two buds and a leaf? Two leaves and a butt? — that's diminishing your brand equity as it is."
But what happens when a company risks consumer loyalty with a name change?
"It is frightening," he says. "We really don't know if our consumers will recognize the new packaging as the same great little tea brand they know and love."
New packaging for two leaves tea company™ will keep the typeface of the original logo but otherwise looks very different. "It's more colorful and tells our brand story better," says Christy Garfield, marketing coordinator for two leaves™.
With no advertising budget, the company has gone to lengths to announce the change via social media and direct e-mail blasts. A blog on the topic garnered more comments from readers than any blog in the history of the company and plenty of feedback via Facebook and Twitter. Not all of the reactions were positive, with some dedicated fans expressing disappointment that the quirky brand name is being shortened. "Sorry to see your unique name swallowed back into a morass of the ordinary," one fan commented.
"Do we lose our edginess?" Rosenfeld responds. "The possibility that we descend into the ordinary is there, and yet the tea we sell is still so unusual. It's whole leaf, organic, and tastes fabulous. But it is a challenge to convey that when basically every player in the market says 'ours is special, unique and delicious.'"
The company's namesake, two leaves and a bud, are precisely what are harvested from the camellia sinensis plant around the world to create the highest quality tea. Since 2004, two leaves™ has built a reputation for their whole leaf tea sachets which the company claims have much more rich and complex flavor than tea in a paper teabag.
"I am very aware of the challenges in doing this," he says. "Are consumers going to recognize us? What about our fans, who are very loyal? It has blown me away, how many people have come up and said, 'Wow, you're dropping the "bud"?' This is the first time I've had anyone come up to me and say something about any marketing we've done. So in terms of what the risks are, there is some significant risk."
The marketing team at two leaves™ did work with a design firm in Colorado, Esse Design, to rework the company's original typeface for consistency, and its new packaging refers back to the original name.
The company is now fond of saying, "While our name is no longer a mouthful, our tea still is."
All 18 varieties of tea sachets will appear in redesigned boxes to be seen on shelves in retail stores and cafés later this year. "Stay tuned," says Rosenfeld. "We are holding our breath to see how the new two leaves™ sells."
About two leaves tea company™ …
Two leaves tea company™ is based in Basalt, Colo., and specializes in whole leaf, organic tea packed in biodegradable, pyramid-shaped tea sachets. The company was founded in 2005 by Richard Rosenfeld, an entrepreneur who traveled the world for business, only to become frustrated at not finding a quality cuppa' tea at home. Two leaves tea company™ travels to the world's premier tea growing regions to meet farmers and taste tea in its purest, native form. The company's commitment to "go there" allows it to bring the experience of the gardens back to its customers by providing exceptional whole leaf tea from only the best harvests. For more information about the tea company visit http://www.twoleavestea.com.