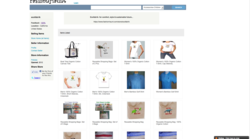 One Stop Shop For Selling and Buying Eco-Friendly Products.
Euless,TX (PRWEB) September 23, 2012
FashionHaunt is a premier shopping site with unique stores that allows sellers to sell varieties of products, one such kind is Eco-friendly products. Ecofabrik is one such store which sells varieties of Eco-friendly items such as shopping bags, tote bags, t-shirts, polo shirts for men and women, hand towels and towels. You can checkout EcoFabrik store and buy with confidence as the store has 100% positive feedback.
Eco-Fabrik is a California (USA) based small business offering bamboo clothing, hemp clothing and organic cotton t-shirts and other accessories. They have developed their business plan by recognizing the needs for more fashionable styles and business casual designs in organic clothing. Their business philosophy is in harmony with the preservation of our beautiful planet earth and its ecological needs. They deal exclusively in bamboo clothing, hemp clothing, organic clothing and accessories made from renewable fiber sources, grown without the use of harmful pesticides and processed without the use of chemicals that are harmful for people and the planet. By carefully selecting only the best products, they offer you the finest quality in Hemp Clothing, Bamboo Clothing, 100% Organic Cotton clothing and other products made of Eco friendly blended fabrics.
Organic clothing is manufactured to last, enduring the wear & tear of normal life cycle and finally reaching a bio-degradable end. Unlike their synthetic counterparts, organic products do not deplete the planet's resources. At the end of their life cycle they blend back into the soil, joining the natural process of re-invigorating the planet earth. We hope, you will enjoy browsing through the Eco-fabrik product line and will have a very pleasant and satisfying online shopping experience with them. Recently, they have added bamboo towels to their Eco offerings. You will find bamboo sports towels, bamboo golf towels and talk of the town luxuriously soft bamboo bath towels. -source ecofabrik.com
If you like to sell and shop online just learning how to shop for Eco-friendly products, starting with FashionHaunt is a fun way to do it.
Selling Eco-friendly products can be tricky as the risk associated with selling the items. One such study called the "The Checkout" concluded that people aged 55 and older had a "higher Eco-consciousness" than younger ones. They found that shoppers between the ages of 18 and 34 are "slower to embrace" paying more for environmentally friendly merchandise than those between the ages of 35 and 44, and 55 and 64.
Therefore, it does not mean that there are no audience for Eco-friendly products, many people are becoming aware of green products. Such consumers has emotional need instead of functional benefits. Therefore, such store and products line can reach to the consumers and FashionHaunt provides a platform for the consumers and producers to get together.
Persis LLC
support(at)fashionhaunt(dot)com
http://www.fashionhaunt.com
http://www.myclozet.net