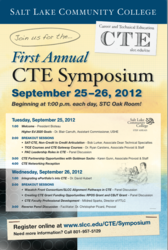 Salt Lake City, UT (PRWEB) September 21, 2012
Salt Lake Community College is hosting a Career & Technical Education Symposium on September 25 and 26 in the Student Center Oak room at the Taylorsville Redwood Campus. The symposium will begin at 1:00 p.m. both days, and will feature topics relating to career and technical education and workforce development programs in Utah today.
SLCC President Cynthia Bioteau will provide the symposium's welcome and introduction, followed by an opening session focusing on Utah Higher Education's 2020 goals. The opening session will be led by Assistant Commissioner of the Utah System of Higher Education Blair Carruth.
Other sessions will be devoted to the College's partnerships with Goldman Sachs and the Wasatch Front Consortium, as well as the various federal grants the College is currently operating.
A networking reception will be held 4:00 - 5:00 p.m. Tuesday, September 25 in the Student Center Oak room.
The symposium is free and open to the public.
About the College: Salt Lake Community College is an accredited, student-focused, urban college meeting the diverse needs of the Salt Lake community. Home to more than 62,000 students each year, the College is the largest supplier of workforce development programs in the State of Utah. The College is the sole provider of applied technology courses in the Salt Lake area, with 13 sites, an eCampus, and nearly 1,000 continuing education sites located throughout the Salt Lake valley. Personal attention from an excellent faculty is paramount at the College, which maintains a student-to-teacher ratio of less than 20 to 1.
For more information, visit: http://www.slcc.edu/cte/symposium/index.aspx.