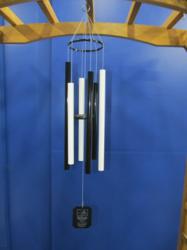 The Piano Wind Chime is a fantastic match for anyone really looking to indulge in a little music therapy.
Dallas, TX (PRWEB) September 28, 2012
Ecowindchimes.com is selling a limited quantity of piano-inspired wind chimes. The company is featuring the wind instrument just in time for holiday gift guides to take notice. The Piano Wind Chime, which is American made and sourced, is stately decorated in traditional sleek black and glamorous white metal tubing. The chime dangles thirty-six inches long and rings an E-minor tone. The Piano Wind Chime is from the company's Grace Notes collection, which is considered to be the most musical of all wind chime products.
"Musicians and music lovers alike will appreciate this style of wind chime. It makes a perfect gift for the upcoming holiday season, especially when engraved," said Stephen Betzen, Owner. "Musicians are always looking for creative inspiration. Our Piano Wind Chime plays beautiful music and helps sustain American craftsmanship."
The Piano Wind Chime sells for $121.00 and can be purchased with or without engraving services. The chime is a grand addition for any music lover seeking unique décor, or even for musicians looking to add a layered effect to their next music project. "Wind chimes provide comforting tones meant to unblock emotional stress and ignite conscious awareness. The Piano Wind Chime is a fantastic match for anyone really looking to indulge in a little music therapy."
About:
Eco Wind Chimes was launched in 2005. The company is deeply committed to American social, economic, and environmental issues. Eco Wind Chimes is owned by Just One Moon, which is dedicated to providing a message of ethics and sustainability. The soothing products produced by Eco Wind Chimes complement the company's dedication to quality workmanship, affordability, and purposeful retail.
Grace Notes wind chimes are considered to be the "most musical" on the planet. Because Grace Notes uses a revolutionary and unique pinned suspension device, the wind chimes produce crystal-clear tones. Grace Notes uses recycled lumber composite strikers and top-quality aluminum tubing. The company sources all of its materials from the USA, and Grace Notes manufactures all chimes in the USA.