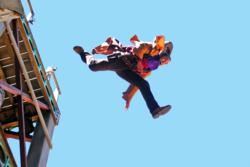 The stunt show is one of the biggest and most exciting presentations we have ever created for the National Harvest Festival!
Branson, MO (PRWEB) September 24, 2012
Silver Dollar City premieres an all-new musical Western stunt show created exclusively for the park's National Harvest Festival, running through October 27. The festival also features 125 top craftsmen from across the country including Best of Missouri Hands juried artists, the Made in Missouri Art Faire show and competition, plus top Western musicians, chuck wagon historians and chefs, legendary Western star Buck Taylor and cowboy celebrity meet-and-greets, part of the festival's The Salute to the Great American Cowboy. The cowboy theme is layered onto the Ozarks' leading fall festival famous for fine craftsmanship and fall harvest activities.
The all-new Western stunt show production, "The Pinkerton Man," showcases amazing stunts and special effects within a classic defender-versus-villain story, including hero fights, 3-story falls, high-flying stunts and rapid-slide rappels, explosions and more, with professional stunt men and women leading a cast of 14, plus live animals. The production, presented within the 4,000-seat Echo Hollow Amphitheatre -- the only venue big enough for all the action, also features comedy and original live music performed by the Sons of the Silver Dollar.
"The stunt show is one of the biggest and most exciting presentations we have ever created for the National Harvest Festival," said Marty Schmitt, Festival Coordinator. "The amphitheater explodes with action, energy, pyrotechnics and, at times, chaos -- a live demonstration of how action stunts put thrills in entertainment!"
A major focus during the National Harvest Festival is craftsmanship, as the park features 125 top craftsmen from around the country, with more new crafters this year than ever before. New crafts such as stone carving, handmade rocking horses and "treenware" or utensil carving are included, along with weaving, jewelry making, stained glass, basket making and painting. A special showcase presents Best of Missouri Hands juried artists and the Made in Missouri Art Faire show and competition with 50 selected works of art, the finalists in a variety of categories from pottery to silversmithing. The visiting craftsmen join the 100 demonstrating craftsmen of Silver Dollar City, named "The Home of American Craftsmanship" by the U.S. Congress.
Salute to the Great American Cowboy features:

Legendary Western star and water color artist Buck Taylor returns, September 19 – October 27, hosting Buck Taylor's Cowboy Emporium" featuring a variety of new Western crafts from bronze sculpture to barbed wire art. Taylor will also judge a daily "Dress 'Em Up, Deck 'Em Out" Cowboy Contest where guests dressed in their cowboy best have a chance to win a photo with the famed Cowboy and judge.
Western celebrity meet-and-greets with Taylor's fellow stars of classic Westerns include Edward Faulkner, Johnny Washbrook, Mark Goddard, Lee Aaker, James Hampton and Peter Brown, from movies and shows including The Rifleman, The Lawman and McLintock.
Western musicians perform on stages throughout the park, including double-Grammy-winning musicians and 7-time Western Music Association's (WMA) "Entertainers Of the Year" Riders in the Sky, multiple WMA Award winners The Sons of the San Joaquin, singer-songwriter and Texas poet laureate Red Steagall, three-part-harmony and violin trio The Quebe Sisters Band, and more.
Barn dancing throughout September: Guests can bring their dancing shoes to join in Missouri's Biggest Barn Dance with live music by Les Gilliam & his Silver Lake Band.
Chuck wagon historians and chefs demonstrate trail-side cooking, including Kent Rollins, a cattle rancher and chuck wagon cook whose talents have landed him on the Food Network's "Chopped" and "Throwdown with Bobby Flay."
Extreme Mustang Makeovers where mustang expert Fred Woehl tames and trains three wild mustangs during the festival, plus Cowboy Poets including Waddie Mitchell, trick horse stunts, trick roping and bullwhip demonstrations.
Fall harvest foods are served up throughout the park, with favorites such as homemade soups and stews, smoked turkey legs and hearty skillet meals cooked on open grills. The Midwest Living Culinary & Craft School will feature fall recipe classes on Danish Apple Pastry, Harvest Time Favorites and Pumpkin Specialties, all taught by Master Craftsman of Culinary Arts Debbie Dance Uhrig in Silver Dollar City's state-of-the-art kitchen classroom.
The National Harvest Festival runs through October 27 at the Branson, Missouri theme park, open Wednesdays through Sundays, 10 a.m. – 6 p.m., and 9:30 a.m. – 6 p.m. on Saturdays. Information: 800-831-4FUN(386) or http://www.silverdollarcity.com. The National Harvest Festival is presented by Humana.