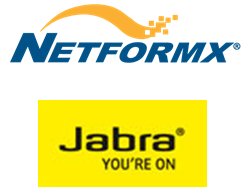 Having access to Jabra's award-winning headsets in Netformx DesignXpert enables our customers and Cisco resellers to create more complete and accurate proposals with ease
San Jose, CA and Copenhagen, Denmark (PRWEB) September 25, 2012
Netformx®, the leader in collaborative requirements-to-order solutions, today announced that hands-free and corded headsets from Jabra, the recognized world leader in innovative, high quality audio devices, are available in its award-winning product, Netformx DesignXpert®. Netformx DesignXpert is the global leader in enterprise technology design and proposal generation built on the Netformx KnowledgeBase™, the richest multi-vendor content library in the world.
Jabra hands-free audio devices deliver an enhanced experience that increases mobility, collaboration, and simple communication. Jabra partners with the Cisco Developer Network (CDN) program to offer a wide range of easy to install and use audio devices that integrate seamlessly with Cisco Unified IP Phones and Cisco Unified Communication Clients.
Key Facts

Jabra's wide range of Cisco-certified hands-free and corded headsets have been added to the Netformx KnowledgeBase.
Netformx KnowledgeBase includes Jabra products and attributes, regional price list, graphics, and validation.
Equipment vendor content in the Netformx KnowledgeBase includes over 350,000 products and more than 2.35 million configuration rules from leading enterprise equipment vendors.
Using Netformx DesignXpert, Netformx's more than 600 customers in over 75 countries create winning proposals and delight their customers.
Jabra Cisco-certified Audio Devices are accessible to all users of Netformx DesignXpert Gold and Platinum editions.
Supporting Quotes
"Jabra's headsets enhance productivity and user satisfaction, combining comfort with exceptional audio performance while being the gold standard in innovation and design," said Chris Briglin, Vice President of Strategic Alliances for Jabra. "Having access to Jabra's award-winning headsets in Netformx DesignXpert enables our customers and Cisco resellers to create more complete and accurate proposals with ease. We are delighted to partner with Netformx and help our joint customers increase their sales of Jabra products while saving both time and money."
"The growing popularity of Unified Communications and connected devices has resulted in explosive demand for hands-free solutions to increase their usability," said John Trembley, Vice President of Marketing and Product Strategy at Netformx. "Determining which headset will best fit a customer's needs can be quite challenging in light of the number of options and complexity of connectivity options. Working with Jabra we are reducing these challenges to ensure Cisco UC resellers can confidently include Jabra in their proposals and help them win more business."
Resources

About Netformx
Netformx is the leader in collaborative requirements-to-order software solutions for enterprise technology. Netformx's customers include service providers, systems integrators and equipment vendors who rely on the company's award-winning solutions to create and sell the information, communications, and technology solutions that power business.
Netformx has over 600 customers in more than 75 countries. Customers include AT&T, Belgacom, Bell, CDW, CenturyLink, Cisco, Dimension Data, HP, Juniper, Orange Business Services, Sprint, Swisscom, Telstra, Verizon, and WWT. The Netformx KnowledgeBase™ is the only comprehensive multi-vendor content library for technology products, including specifications, validation rules, pricing, ordering information, and discovery mappings from top technology suppliers including Cisco, HP, Juniper, Brocade, Avaya, Adtran, APC, Belden, Plantronics, Polycom, TrippLite and now Jabra.
About Jabra
Jabra is the brand of GN Netcom, a subsidiary of GN Store Nord A/S (GN) - listed on NASDAQ OMX. Jabra employs approximately 850 people worldwide and in 2011 produced an annual revenue which amounted to DKK 2,106 million. Jabra is a world leader in the development, manufacturing, and marketing of a broad range of hands-free communications solutions. With a reputation for innovation, reliability, and ease of use that goes back more than two decades, Jabra's consumer and business divisions produce corded and wireless headsets, plus mobile and in-office speakerphones that empower individuals and businesses through increased freedom of movement, comfort, and functionality.
© 2012 GN Netcom A/S. All rights reserved. Jabra® is a registered trademark of GN Netcom A/S.