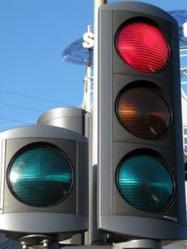 In Sacramento alone, each year authorities report over 4000 accidents.
Sacramento, CA (PRWEB) September 23, 2012
The Sacramento Red Light Photo Enforcement Program significantly decreases the number of car accidents. The program has 25 cameras at various intersections through the city. The program is managed by the Sacramento County Sheriff's Department, which reports that the installation of a new red-light unit decreases the number of red-light-related Sacramento accidents. In Sacramento, intersections with the red-light photo enforcement camera, crashes have been decreased by 76 percent.
The Red Light Photo Enforcement System consists of high-speed cameras mounted in housings at signalized intersections. The cameras are connected to the traffic signal controller and they are aimed at the intersection stop lines and behind the approach lane. When a car enters the intersection on the red cycle, the radar triggers the camera, which then takes a picture. The picture records the driver's face and the, vehicle license plate. The flash produces clear images under a wide range of light and weather conditions. The registered owner of the vehicle will receive a citation in the mail. Every violation is screened by an officer and the ticket is issued if the evidence supports the violation. The fine for a red light violation is nearly $500. In 2011 red light cameras in Sacramento County generated about 10 thousand tickets and brought in nearly $5 million.
Thousands of people get injured in California every year as a result of car accidents. In Sacramento alone, each year authorities report over 4000 accidents. Of those accidents, more than 50 percent occur at traffic signals. Half of those collisions result in injuries, causing victims a lifetime of lost wages and medical expenses.
"The drivers are more likely to be injured in crashes involving red light running than in other types of crashes. Naturally the reductions in red light running accidents would be particularly beneficial in reducing accidents in Sacramento" says John Demas, Sacramento accident attorney.
About Demas Law Group, Sacramento accident attorney
The Demas Law Group, P.C. is a team of Sacramento personal injury attorneys and staff who work together dedicating themselves to providing legal representation to individuals and families who have been injured because of the negligence of others. The firm handles legal matters including auto injuries, pedestrian injuries, catastrophic injuries, DUI accident injuries, defective products injuries, medical malpractice, defective medications, nursing home abuse, general negligence and wrongful death cases.
Attributes:
http://www.fox40.com/news/headlines/ktxl-sacramento-metropolitan-red-light-photo-enforcement-detail-starts-new-red-light-camera-system--20120913,0,2610111.story
http://www.cityofsacramento.org/transportation/traffic-engineering/trafficredlight.html