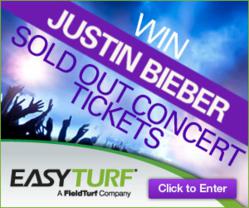 Vista, CA (PRWEB) September 24, 2012
EasyTurf has teamed up with Radio Disney and the Make-A-Wish Foundation to help make one child's Justin Bieber concert dreams come true. With tickets to a sold-out LA Staples Center concert, EasyTurf reached out to Make-A-Wish, donating the tickets to one young girl as a "Wish Enhancement." The lucky Make-A-Wish recipient is on a long list of Wish-kids who want to meet the superstar singer.
The ticket recipient attended a Justin Bieber concert once before but was too ill to attend the entire show. She has ALL (Acute Lymphoblastic Leukemia), a cancer of the white blood cells where malignant, immature white blood cells continuously multiply and are overproduced in the bone marrow and is most common in children. EasyTurf was able to donate two concert tickets to her in a program known as a "Wish Enhancement," and for this one little girl, it truly is a dream come true.
EasyTurf synthetic lawns and putting greens is also currently hosting an online contest open to all for Bieber tickets. One pair of tickets to the sold out Justin Bieber "Believe" concert in Los Angeles Oct. 2nd or 3rd, 2012 (ticket date(s) based on availability and determined by EasyTurf and Radio Disney, and specific date will be announced with details soon) is up for grabs on the EasyTurf website. There is no purchase necessary to win, and all entrants must be 18 years or older. Online forms and contest rules available at http://www.easyturf.com/win.
About Justin Bieber
Justin Bieber is a Canadian singer–songwriter, musician, and actor who was discovered on YouTube in 2008 by American talent manager Scooter Braun. Bieber was soon signed by Usher to the Raymond Braun Media Group (RBMG) and later to a recording contract with Island Records offered by L.A. Reid. His first extended play album My World was released in 2009 and made Bieber the first artist to have seven songs from a debut album chart on the Billboard Hot 100 and was certified Platinum. Justin Bieber has been nominated for 114 different awards and won 76 within the last 3 years. Believe is the third studio album by the Biebs, released on June 15th, 2012 and marks a musical departure from the teen bop sound of some of his previous releases, incorporating elements of Hip Hop and R&B. For a more mature sound, Bieber collaborated with a wide range of urban producers for the release. For the lyrics, Bieber co-wrote twelve songs with many hired songwriters and the music was composed by session musicians.
About EasyTurf
In May 2010 EasyTurf, Inc. a long-time distributor of FieldTurf's line of landscaping products and a
recognized leader in the artificial grass industry, became the national brand of FieldTurf's landscape, pet, playground and golf artificial grass products. The partnership allowed FieldTurf to rapidly expand its existing dealer network and accelerate sales and distribution of FieldTurf's landscape products on a national level to homeowners, municipalities, schools, businesses and the military.
Contact:
Jackie Luper, Director of Marketing
Phone: (760) 745-7026
Fax: (760) 888-2011
# # #