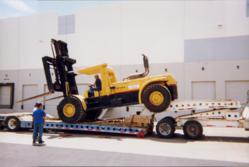 "Businesses in America are wasting thousands of dollars on renewal fees for their forklift operator certifications," says Tom Wilkerson, founder of CertifyMe.net
PHOENIX,AZ (PRWEB) September 23, 2012
CertifyMe.net, an online equipment training website, has announced its free three-year renewal certification program.
"Businesses in America are wasting thousands of dollars on renewal fees for their forklift operator certifications," says Tom Wilkerson, founder of CertifyMe.net. "Customers who purchase the CertifyMe.net online training program have always had access to free three-year renewal refresher courses and tests. Our customer service model rewards our clients by offering on-going education for those operators who are ready for OSHA certification renewal. There's no need to pay and re-pay for continuing certification. Our program makes it simple and cost-effective."
The free three-year renewal program allows company instructors to create their own re-training program that is customized to the workplace. The CertifyMe.net program provides materials to identify specific workplace problems, tests for forklift operators, as well as certificates and compliance identification cards. These are all in compliance with OSHA regulations.
The CertifyMe.net company, which focuses on training equipment operators to be the safest in their industries, monitors all changes is federal regulations and creates online training programs to fully educate business owners, trainers and heavy equipment operators. CertifyMe.net pays close attention to OSHA violations and trends in incidents, assisting businesses to avoid them. The CertifyMe.net products allow businesses to create a trainer within the business with its aerial lift and forklift "Train the Trainer" programs. Businesses can obtain trainer certification online, saving both time and money.
The program, which is available at http://www.CertifyMe.net, costs as low as $49.95 per trained employee. The robust program is self-paced and offers opportunity to train employees whenever and wherever it is most effective for the employer and staff. The program typically will be utilized at the specific workplace, allowing trainers to highlight unique safety hazards and conditions of the business.
CertifyMe.net was created in 1999 as a provider of workplace training programs. Initiated by professional rigger Tom Wilkerson, the company's goal is to provide simplified, efficient and cost-effective training programs for businesses. CertifyMe.net programs are designed to offer comprehensive training by experienced, seasoned operators in the existing workplace, thereby creating a safer environment while avoiding unnecessary off-site training expenses and overtime fees. Since its inception, thousands of companies throughout the nation have utilized CertifyMe.net programs, including Fortune 500 companies and government agencies. For more information about the aerial lift & scissor lift training program, visit http://www.CertifyMe.net.