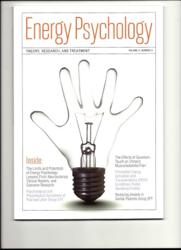 What was made very clear through the research, was the fact that Quantum-Touch healing is effective and has a positive impact on clients in the area of chronic musculoskeletal pain
(PRWEB) September 25, 2012
"What was made very clear through the research, was the fact that Quantum-Touch healing is effective and has a positive impact on clients in the area of chronic musculoskeletal pain," wrote Adara L. Walton, N.D.
"This is extraordinary," affirmed Joshua Wenner, marketing and sales director for Quantum-Touch. "We now have further research supporting that this process works. It has been studied in a collegiate setting and has been proven effective."
Pain, as Ms. Walton notes, is a part of the human condition. Over the millennia, people have looked for different ways to alleviate and control their pain. In the modern world, pain management is handled using Western methods of heat packs, injections, surgery and drugs rather than holistic methods which are largely non-invasive.
Mr. Wenner states, "Quantum-Touch does not use any surgery, needles or medications to relieve the pain. It relies on one person's ability to use simple breathing techniques combined with effective ways to direct and focus energy flow within themselves and the person in need of healing."
He continues, "Thousands of people have reported pain relief after experiencing a Quantum-Touch session and many have reported lasting pain relief. They know the power, and now, thanks to Adara, we have a research study which proves this."
A synopsis of the dissertation by Ms. Walton, is now available online at http://blog.quantumtouch.com/blog/bid/224884/Research-Shows-Quantum-Touch-Impacts-Chronic-Musculoskeletal-Pain. The site also includes a link to the entire report. The report was also published in the November 2011 issue (Vol. 3, No. 2) of Energy Psychology Journal.
Ms. Walton states in the opening to her dissertation: "Quantum-Touch, as a modality, has the potential to be of importance in the issue of pain intervention as a new modality in addressing musculoskeletal pain in humans. As such, it is imperative that research be conducted that can evidence its impact to reduce and or alleviate musculoskeletal pain in men and women. The potential for Quantum-Touch as an additional non-invasive modality cannot be overlooked."
For more information visit http://www.quantumtouch.com, or call 888-424-0041 and +001 310-984-6899 for international callers.
ABOUT QUANTUM-TOUCH: Quantum-Touch is a powerful, yet easy to learn, method of natural healing (or energy healing). Everyone has the innate ability to help ourselves and others. The Quantum-Touch techniques teach us how to focus and amplify life-force energy (or Chi, Bioenergy, Prana) by combining various breathing and energy awareness exercises. QT energy healers learn to amplify and direct the life-force energy, facilitating the body's own healing process.