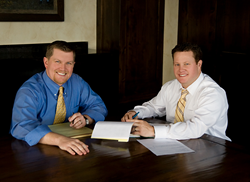 The best way to protect yourself and your family is to obtain adequate UIM and UM coverage with your own auto insurance
Salt Lake City, UT (PRWEB) September 22, 2012
The personal injury attorneys at Christensen & Hymas recently recovered $100,000 for a man who was rear-ended in his car while waiting at an intersection's red light. The pleading associated with the case cites that the force from the distracted driver's car caused his car to impact the car in front of him. Due to the violent forward and backward movement his body sustained in the accident, the man's neck, back, shoulder, and arms were severely injured. Utah attorney Russ Hymas urges all motorists to obtain underinsured motorist (UIM) and uninsured motorist (UM) insurance coverage with the highest policy limits that fall within your budget.
Utah auto accident lawyer Russ Hymas, of Christensen & Hymas, took on the case due to the mounting medical bills and lost wages the victim incurred due to the accident, and the unwillingness of State Farm Insurance to come to a reasonable agreement in covering them.
Attorney Russ Hymas said, "It was only after commencing litigation that State Farm Insurance recognized the seriousness of the man's injuries and mounting medical bills. They finally conceded to pay out the maximum amount on the at-fault driver's policy, which was $50,000."
Christensen & Hymas then made a claim on the man's own underinsured motorist coverage (UIM), which is available in instances where the at-fault driver does not have sufficient insurance to cover all the damages suffered by an accident victim. The man carried $50,000 in UIM coverage, which Bear River promptly tendered.
Utah attorney Russ Hymas warned, "You never know who is going to hit you. You can't control whether the person that crashes into your car has insurance limits of $100,000, $25,000, or no insurance at all! The best way to protect yourself and your family is to obtain adequate UIM and UM coverage with your own auto insurance."
Had this man's UIM insurance limits been higher, he would have most assuredly received additional compensation for his injuries and damages, especially considering the amount of medical bills and lost wages that accrued following two shoulder surgeries and many physical therapy visits. Mr. Hymas concludes by saying, "If you haven't already, review your UIM and UM coverage limits and if they are low, consider adjusting them. If you're uncertain whether you have adequate UM/UIM coverage, contact a personal injury attorney."
About: Christensen & Hymas
The personal injury attorneys at Christensen & Hymas represent clients who have been injured in car accidents, Utah bicycle accidents, dog bites, or a client who has lost a loved one and is in need of a wrongful death attorney. They have won cases amounting to millions of dollars, which have ultimately enabled those who have been injured to better deal with the effects of personal tragedy that accompanies wrongful injuries. They have also written multiple free accident books, covering in great detail how to handle a personal injury and the repercussions therefrom.
For a free consultation with a motorcycle accident lawyer, call Christensen & Hymas today at (801) 506-0800 or visit their website at http://www.utahpersonalinjurylawfirm.com/.
Christensen & Hymas:
Main Office -- 11693 S. 700 E. Ste. 100, Draper, UT 84020 -- (801) 506-0800 -- Fax: (801) 506-0801
Utah County Office -- 584 S State Street, Orem, UT 84058 -- (801) 224-2999
Davis County Office -- 503 West 2600 South #200, Bountiful, UT 84010 -- (801) 294-9500