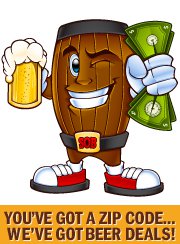 It's really a price-assault on the American people.
Houston, TX (PRWEB) September 25, 2012
SaveOnBrew.com has released their annual infographic of NFL stadium beer prices and trends. Several years ago, SaveOnBrew was created to help consumers make more informed decisions regarding where they purchased beer. The NFL study is just an extension of their quest to help Americans find better beer for less.
Beer prices are rising, their research suggests. The average beer is $7.28, which went up 15 cents from last year. SaveOnBrew found the average family of four spends $443.93 to attend one game! That includes $78.38 per regular ticket, $4.57 for soft drinks, $4.84 for hotdogs, $27.35 for parking, $4.06 for programs, $21.38 for hats, and $7.28 for beers.
"It's really a price-assault on the American people," explains SaveOnBrew's Mark Davidson. "Even though my home stadium, Reliant Stadium, has the country's lowest price on beers at 29 cents per ounce, we're still big proponents of tailgating. Right now I can get a 12-pack of Tecate for $9.99 from Foodarama in Houston, which is the cost of one-and-a-half Budweisers at the game. The savings is much, much greater at the more expensive stadiums like MetLife Stadium in New York."
According to SaveOnBrew research, captured on this infographic, the best places to buy beer in the NFL include: Reliant Stadium in Houston ($6/beer, 29cents/oz); Mercedes-Benz Superdome in New Orleans ($8.50/beer, 35cents/oz); and Heinz Field in Pittsburgh ($7.50/beer, 36cents/oz).
By contrast, the worst places to buy beer in the NFL include: Lucas Oil Stadium in Indianapolis ($7/beer, 58cents/oz); Qualcomm Stadium in San Francisco ($9/beer, 56cents/oz); and MetLife Stadium in New York City ($8.75/beer, 55cents/oz).
"We're also on the lookout for major price increases and trends at NFL stadiums," explains Davidson. "Very rarely do we see prices go down, but this year we'd like to commend FedEx Field, Ford Field, Edward Jones Dome, and Paul Brown Stadium for seeing the light and dropping prices for thirsty beer fans."
SaveOnBrew found that beer prices dropped 4 cents/oz at Ford Field, 5 cents/oz at Edward Jones Dome, 10 cents/oz at Paul Brown Stadium, and a whopping 23 cents/oz at FedEx Field.
Flip a coin and NFL fans will find 9 stadiums increased prices this year, including: M&T Bank Stadium (+1cent/oz), Ralph Wilson Stadium (+2cents/oz), Cowboys Stadium (+3 cents/oz), Soldier Field (+3cents/oz), Jacksonville Municipal Stadium (+5cents/oz), Sun Life Stadium (+6cents/oz), Qualcomm Stadium (+16cents/oz), and Georgia Dome (+18cents/oz).
The full infographic can be viewed at http://www.SaveOnBrew.com. Consumers can also enter their zip codes for a listing of local retailers with the lowest beer prices and best deals in their area. Any beer enthusiasts in the Houston area are invited to visit the SaveOnBrew tailgating tent at Reliant Stadium for free merchandise.