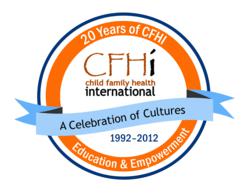 This is a celebration wider than that of one organization…it is an endorsement of a sustainable model of global engagement and human resource development to affect health locally and globally.
San Francisco, CA (PRWEB) September 24, 2012
Dr. Dan Ostergaard of the American Academy of Family Physicians closed the organization's annual Global Health Workshop with the observation that it is difficult to know at the onset of a global health project or partnership if it will be truly sustainable. Sustainability can be understood by examining the few success stories in long-term global health partnerships.
CFHI is the leading NGO providing ethical global health education; its upcoming 20th Anniversary highlights its endurance and sustainability and sets the gold standard for global health partnerships, educational programs, and integrated community health projects. CFHI's sustainability hinges upon its philosophical approach to partnerships. As a non-profit organization, CFHI has the flexibility and endurance to maintain lasting partnerships through good as well as challenging times. This is highlighted by CFHI's ongoing relationship with partners in Mexico, despite the policies of many universities that restrict student travel there due to drug violence in some areas. CFHI is ongoing in its commitment to monitoring the situation and communicating with local partners about program safety. Despite some global health agencies scaling back their programs in Mexico, CFHI has expanded programming, and recently provided refresher training to indigenous midwives in Mexico to improve infant and maternal mortality.
CFHI's asset-based partnership philosophy means that it considers the local health care practitioners, patients, homestay families, and wider community to be global health experts - resources and teachers of the on-the-ground realities that are critical for students from high-income countries to understand. CFHI's tuition-based funding model means the programs are financially sustainable and just; adding rather than taking away resources from the local communities. Participant tuition dollars are reinvested in communities through community health projects and professional development. CFHI program participants can be confident that they are giving back, both in the short- and long-term. According to CFHI Medical Director, Dr. Jessica Evert, "CFHI provides a unique opportunity for students and others interested in global health to contribute to the causes of justice and equity, while learning important lessons that will make them better health providers, citizens, and partners in the future."
CFHI's 20th Anniversary is a success story - tangible evidence of a sustainable partnership and a model for global health education. As CFHI Founder Evaleen Jones, MD, observed, "This is a celebration wider than that of one organization…it is an endorsement of a sustainable model of global engagement and human resource development to affect health locally and globally." CFHI's model allows students, trainees, and lifelong learners to positively affect global health by working in impoverished communities. At the same time, students gain invaluable education, which will improve the provision of healthcare to all they serve, and provide a model for future partnerships and collaborations. CFHI's Anniversary Gala takes place September 30, 2012 on the San Francisco waterfront.
About CFHI
Founded in 1992, CFHI (http://www.cfhi.org) is a non-government organization (NGO) operating at the grassroots level to provide transformative global health education experiences and community empowerment in underserved communities around the world. CFHI offers 20+ Global Health Education Programs designed to broaden students' perspectives about global health - as well as a variety of community health initiatives and projects - in developing countries including Bolivia, Ecuador, India, Mexico, and South Africa. More than 6,000 students have participated in CFHI programs to date. CFHI has been granted Special Consultative Status with the Economic and Social Council of the United Nations (ECOSOC).